Anantara Siam Spa Exclusive Offers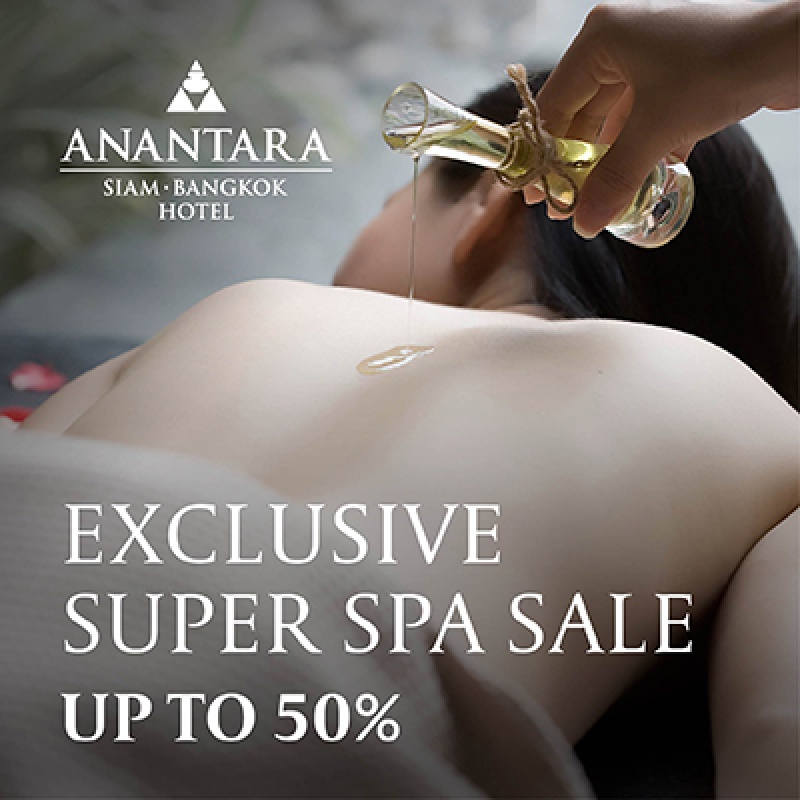 Venue Details
Anantara Siam Bangkok Hotel
155 Rajadamri Road, Lumphini
Pathumwan, Bangkok, 10330
Anantara Siam Spa Exclusive Offers
Escape and unwind at our spa hotel in Bangkok.

In a prestigious escape from the capital's fast pace, exotic aromas soothe the senses and exquisite Thai design celebrates tradition. Hide away in a luxury treatment suite and let intuitive hands pamper you with ancient therapies from across Asia and Western beauty treatments. Indulge in carefully crafted journeys for optimum wellbeing at our spa hotel in Bangkok, or reserve one of our heavenly massages to enjoy by the pool or in the privacy of your suite.


60 mins Head Massage with warm coconut oil
Head Massage incorporates deep thumb and finger pressure, friction movements as well as soothing effleurage, which excellent choice to relieve headaches, tension in your shoulders and neck. Using warm coconut oil to nourish your hair and scalp. 
60 mins De-stresser Massage
The perfect reward at the end of a hectic day, this sequence melts away pent-up stress and fatigue by focusing on the back, neck and head for immediate and long-lasting relaxation. Shower – Floral Foot Bath – Tension Relief Back Massage – Choice of Head and Scalp Massage or Neck and Shoulder Massage
90 mins Aroma Oil Massage
Aroma oil massage using a combination of strokes and acupressure techniques, along with the signature aromatherapy oil blend of your choice, this gentle massage delivers waves of deep relaxation and pure pleasure.
60 mins Couples Aroma Oil Massage
Unwind completely with your loved one or a couple as your therapist applies long gliding movements and palm pressure techniques to warm and relax muscle tissues, while a floral essential oil blend induces deep relaxation and enhances the revival of tired and aching muscle.
60 mins OXYGENATING FACIAL (Biologique Recherche)
Skin Instants: Devitalised and stressed skin. Recommended for devitalised, sluggish skin which can be caused by city pollution, stress and travelling. A perfect combination of micro-exfoliation and bio-energy massages will oxygenate the epidermis, relax your facial muscles and leave your skin glowing.
 
Terms & Conditions
All vouchers are valid until 31 October 2021
Vouchers are inclusive of service charge and applicable government tax. 
Available at Anantara Spa at Anantara Siam Bangkok Hotel only. 
Voucher cannot be redeemed for cash or monetary value and cannot be extended past the validity date.
Voucher cannot be used in conjunction with any other promotion.
Vouchers are non-refundable.
Voucher is transferable as a gift certificate.
No shows and late cancellation will result in the cancellation of redeemed vouchers.
Anantara Siam Bangkok Hotel is not responsible for lost or stolen Certificates.
1-day advance reservation is required, please call us at +66 (0) 2126 8866 or email at spa.asia@anantara.com
ข้อกำหนดและเงื่อนไข
บัตรกำนัลสามารถใช้ได้ถึงวันที่ 31 ตุลาคม 2564
บัตรกำนัลนี้ ราคารวมเซอร์วิสชาร์จและภาษีมูลค่าเพิ่มแล้ว
บัตรกำนัลนี้สามารถใช้ได้ที่อนันตรา สปา ณ โรงแรมอนันตรา สยาม กรุงเทพฯ 
บัตรกำนัลไม่สามารถใช้ร่วมกับราคาพิเศษและโปรโมชั่นอื่นๆ ได้
บัตรกำนัลไม่สามารถนำมาแลกเปลี่ยนเป็นเงินสด หรือมูลค่าแทนเงินได้ และไม่สามารถขยายเวลาหมดอายุของบัตรกำนัลได้
บัตรกำนัลนี้มอบเป็นบัตรของขวัญให้ผู้อื่นได้ 
โรงแรมอนันตรา สยาม กรุงเทพฯ ขอสงวนสิทธิ์ในการรับผิดชอบต่อบัตรที่สูญหายหรือถูกขโมยทุกกรณี 
โรงแรมอนันตรา สยาม กรุงเทพฯ มีสิทธิ์ในการปฏิเสธการใช้บัตรกำนัลที่หมดอายุ และคิดราคาเต็มหากคุณต้องการเข้าใช้บริการตามวันเวลาที่ได้ทำการจอง
กรณีไม่มาใช้บริการในวันที่แจ้งไว้หรือยกเลิกล่าช้าบัตรกำนัลจะถูกยกเลิกในทันที
โรงแรมอนันตรา สยาม กรุงเทพฯ ขอสงวนสิทธิ์ในการเปลี่ยนแปลงหรือยกเลิกข้อตกลงและเงื่อนไขบางประการหรือทั้งหมด โดยไม่ต้องแจ้งให้ทราบล่วงหน้า และมีผลบังคับใช้ทันที
กรุณาสำรองการใช้บริการล่วงหน้าอย่างน้อย 1 วัน สอบถามรายละเอียดเพิ่มเติม โทร +66 (0) 2126 8866 หรืออีเมล์ spa.asia@anantara.com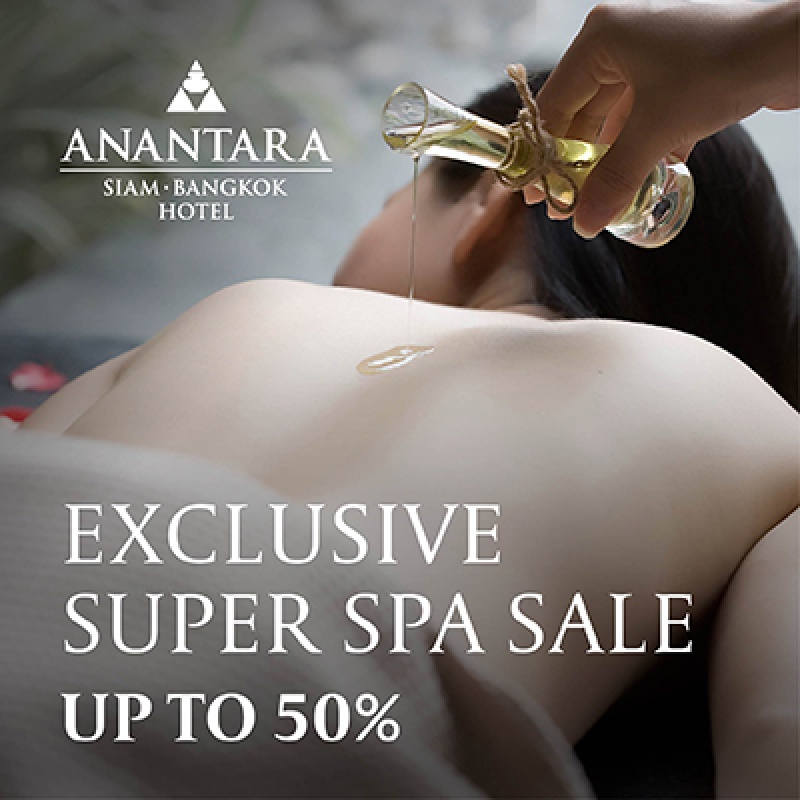 Venue Details
Anantara Siam Bangkok Hotel
155 Rajadamri Road, Lumphini
Pathumwan, Bangkok, 10330