Bangkok Marriott Hotel Sukhumvit - 2022 Campaign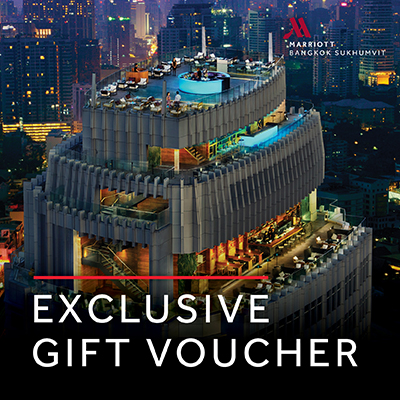 Venue Details
Bangkok Marriott Hotel Sukhumvit (TH)
2, Sukhumvit Road Soi 57
Wattana, Bangkok, 10110
Bangkok Marriott Hotel Sukhumvit - 2022 Campaign
Experience 5-star luxury in one of the city's most chic and energetic districts at Bangkok Marriott Hotel Sukhumvit. Conveniently situated off Sukhumvit Road, our hotel offers unbeatable access to the city's prime shopping, dining, entertainment and tourist attractions, including the BITEC. Find your respite in well-appointed accommodations with pillowtop mattresses, marble bathrooms and views of the popular Sukhumvit area.
Upgrade to our hotel's luxury suites for more 5-star perks, including complimentary cocktails and access to our Executive Lounge. Thrill your palate with some of Bangkok's finest cuisine at our award-winning steakhouse and rooftop bar. 
For limited time only, earn more when you buy this exclusive cash voucher. Available for accommodation and food & beverage consumption. 
THB 3,000 voucher for a total value of THB 3,300
THB 10,000 voucher for a total value of THB 12,000
Sell Dates: Today – 30 June 2022
Validity Date: Today – 30 June 2022 (Blackout dates applied)
For more information or advanced reservation, please contact: mhrs.bkkms.sales@marriott.com or (+66) 2 7970000
Terms and Conditions
- Vouchers can be redeemed for accommodation (booked via Marriott.com/bkkms and applicable for non-prepayment rates only), food and beverage consumption.
- This gift voucher can only be redeemed for accommodation charges if the reservation is made on any of the following rate plans via Marriott.com or directly via the hotel.
Applicable rate plan/rate offer names: Flexible rate & Stay for Breakfast rate.
If a reservation is booked via any other channel or on any other rate plan, the voucher cannot be used.
- Vouchers are pre-paid at time of booking, and are non-refundable.
- Credits cannot be used for tax & service charge payment.
- Credits cannot be used in conjunction with any other promotion or discounts, vouchers, special events and membership club discounts.
- Credits need to be used during one stay and cannot be carried forward for future use or redeemable as cash.
- Marriott Bonvoy members are able to earn points based on the purchase price of the vouchers, rather than the redemption value. Also, vouchers cannot be redeemed for discounted products or services through Marriott Bonvoy, Club Marriott or any other promotions. 
- Any spending exceeds the amount of the gift certificate, the balance must be paid upon check-out either in cash, by credit card or other available payment method.
- Credits will be applied to the guest folio at the time of check-out or bill settlement.
- Credits are not transferable, cannot be exchanged for cash and are void after check-out. 
- Credits are not applicable for group bookings (10 or more rooms) or catering spending (weddings, meetings).
For more information or advanced reservations, please contact: mhrs.bkkms.sales@marriott.com or (+66) 2 7970000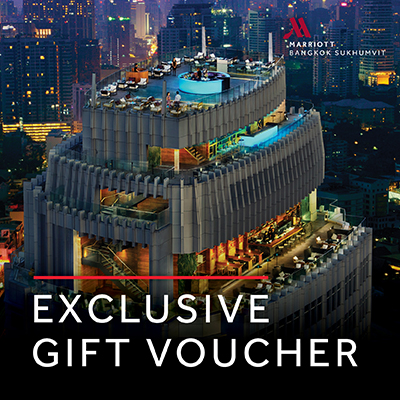 Venue Details
Bangkok Marriott Hotel Sukhumvit (TH)
2, Sukhumvit Road Soi 57
Wattana, Bangkok, 10110