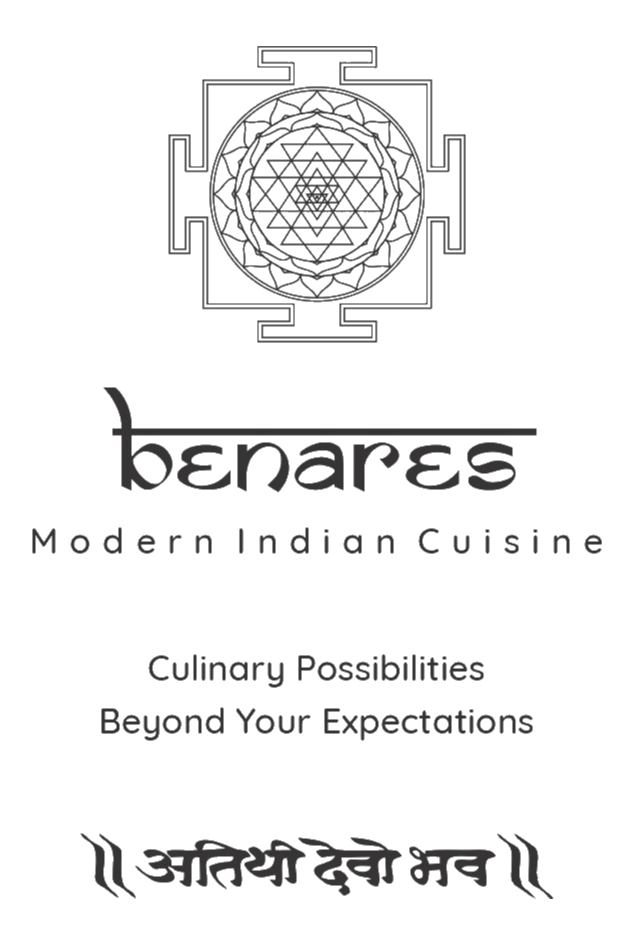 Benares Bangkok - Come 4 Pay 3
20+
Tasting Menu- THB 1150 NET Dinner
Come 4 Pay 3
฿1,241.01
฿1,150.00 + ฿91.01 fee
Tasting Menu- THB 1150 NET Lunch
Come 4 Pay 3
฿1,241.01
฿1,150.00 + ฿91.01 fee
Tasting Menu- THB 1400 NET Dinner
Come 4 Pay 3
฿1,510.80
฿1,400.00 + ฿110.80 fee
Tasting Menu- THB 1400 NET Lunch
Come 4 Pay 3
฿1,510.80
฿1,400.00 + ฿110.80 fee
Tasting Menu- THB 1755 NET Dinner
Come 4 Pay 3
฿1,893.89
฿1,755.00 + ฿138.89 fee
Tasting Menu- THB 1755 NET Lunch
Come 4 Pay 3
฿1,893.89
฿1,755.00 + ฿138.89 fee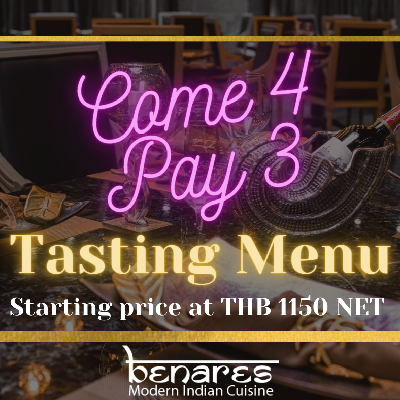 Venue Details
15 Sukhumvit Residences
SUKHUMVIT SOI 13, GROUND FLOOR, 15 RESIDENCES 15, Khlong Toei Nuea, Watthana, Bangkok
Bangkok, Bangkok/Watthana, 10110
Benares Bangkok - Come 4 Pay 3
20+
Benares - Modern Indian Dining restaurant in the heart of City Sukhumvit Soi 13. We aim at providing our guests with a royal dining experience along with a classic service every time. 
What is unique about dining with us?
The concept at Benares all about providing you with a perfect sensation of unforgettable moments in a luxurious & comfortable set up. The roof lighting depicts lit candles in the river Ganges of Varanasi during evening prayer.
Benares' Chef Navin, who worked with Benares London- the first Indian Michelin Star restaurant in London, brings his expertise while extensively using Sous-Vide and Molecular gastronomy cooking methods to provide a unique taste & experience to our guests.
Benares is a place for you if you're looking for an elegant ambiance where you can experience sophisticated & intimate dining.
Opened Every Day from Monday-Sunday
Opening Hours: 11:30 - 15:00 & 18:00 - 23:00 
Tasting Menu: 
Option 1: The Teaser (Tasting Menu @ 1150 NET)

Parmesan Chicken Tikka

Sun-dried Tomato Chutney

Black Olive Soil

***

Show Starter

Dal Shorba

Hand Picked Baby Greens

***

The Opening Scene

Paprika Clay Oven Tangri Chicken

Lamb Chop Slow Cooked

***

Sorbet

Chef's Special

***

The Main Show

Murg Makhanwala

Meat Belli Ram

Duo Of Lentils

(Mains are served with Indian Classic Breads & Long Grain Basmati Rice)

***

The Final Climax

Pistachio Phirni

Pandan Kulfi

Option 2: Tasting Menu @ 1400 NET

The Teaser

Mutter Corn Jelly Toast

Tomato Chilli Jam

***

Show Starter

Mushroom Infusion Soup

Hand Picked Baby Greens

***

The Opening Scene

Chilli Garlic Grilled Prawns

Green Herb Fish tikka

***

Just Before The Mains

Lamb Chop Slow Cooked

Chargrilled Chicken Tikka

***

Sorbet

Chef's Special

***

The Main Show

Classic Chicken Tikka Masala

Truffle Rogan Josh

Duo of Lentils

(Mains are served with Indian Classic Breads & Long Grain Basmati Rice)

***

The Final Climax

Manjeri Chocolate Phirni

Pandan Kulfi

***

The Final Climax

Masala Chai

Option 3: Tasting Menu @ 1755 NET 

The Teaser

Chicken Tikka Doughnut

Makhan Soil

Makhani Espuma

***

Show Starter

Mushroom Infusion Soup

Hand Picked Baby Greens

***

The Opening Scene

Chargrilled Chicken Tikka

Malai Seekh Kebab

***

Just before the Mains

Lamb Chop, Slow Cooked

Hyderabadi Lamb Seekh Kebab

***

The Interval

Pan Seared Scallops

Chilli Garlic Grilled Prawn

Green Herb Fish Tikka

***

Sorbet

Chef's Special

***

The Main Show

Classic Chicken Tikka Masala

Truffle Rogan Josh

Dahi Chatpata Aloo

Yellow Lentils With Roasted Cumin

(Mains are served with Indian Classic Breads & Long Grain Basmati Rice)

***

The Final Climax

Manjeri Chocolate Phirni

Pandan Kulfi

***

Masala Chai
TERMS & CONDITIONS: 
Minimum number of guest must be 4 

This promotion cannot be clubbed with other promotions 

Booking in advance is required  

This promotion is applicable only on Tasting Menus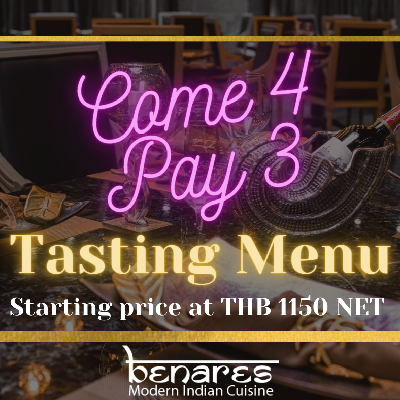 Venue Details
15 Sukhumvit Residences
SUKHUMVIT SOI 13, GROUND FLOOR, 15 RESIDENCES 15, Khlong Toei Nuea, Watthana, Bangkok
Bangkok, Bangkok/Watthana, 10110