Festive Hampers 2021-2022 | Bangkok Marriott Marquis Queen's Park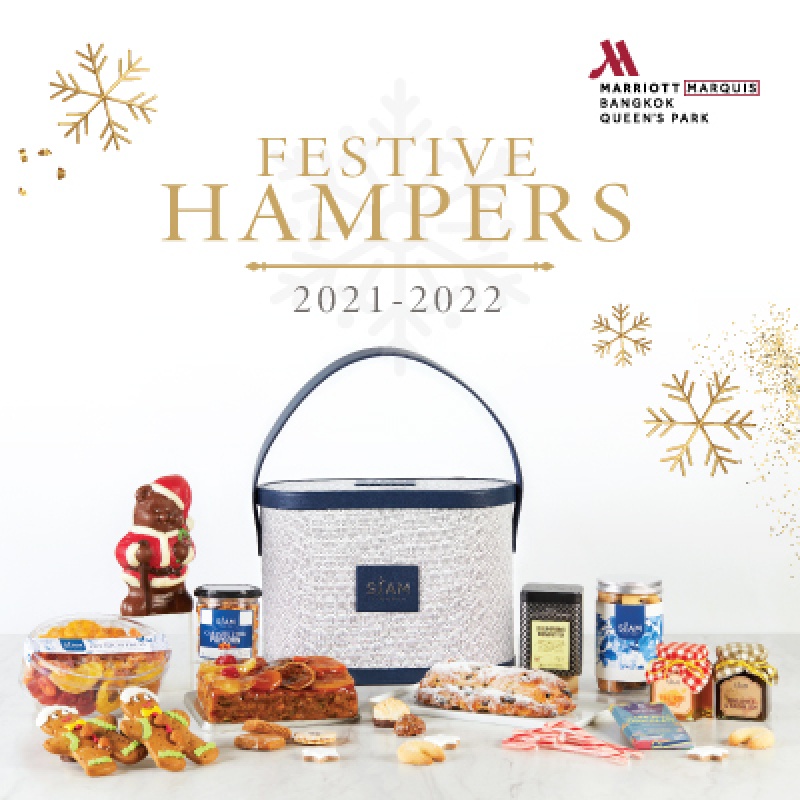 Venue Details
Siam Tea Room | สยาม ที รูม
199 Sukhumvit 22
Khlong Toei, Bangkok, 10110
Festive Hampers 2021-2022 | Bangkok Marriott Marquis Queen's Park
FESTIVE HAMPERS 2021-2022
In celebration of a fun-filled festive season, Bangkok Marriott Marquis Queen's Park is delighted to present a selection of hampers that capture the rich traditions of Christmas, all filled with sumptuous seasonal delicacies. Should you prefer to create your own, we would be very happy to create your own bespoke, signature hamper.
Discover mouth-watering dishes such as traditional roasted turkey with all the trimmings and a choice of classic desserts such as yule log cake, Christmas stollen, plum pudding and much more!
These gourmet goodies are available at Siam Tea Room, on the lobby level of Bangkok Marriott Marquis Queen's Park, from 25 November 2021 to 15 January 2022.
THE QUEEN'S PARK HAMPER
เดอะ ควีนส์ ปาร์ค
The ultimate festive season hamper comes in Signature bag loaded with traditional festive treats, such as homemade panettone, stolen, fruitcake and more.
THB 4,480.-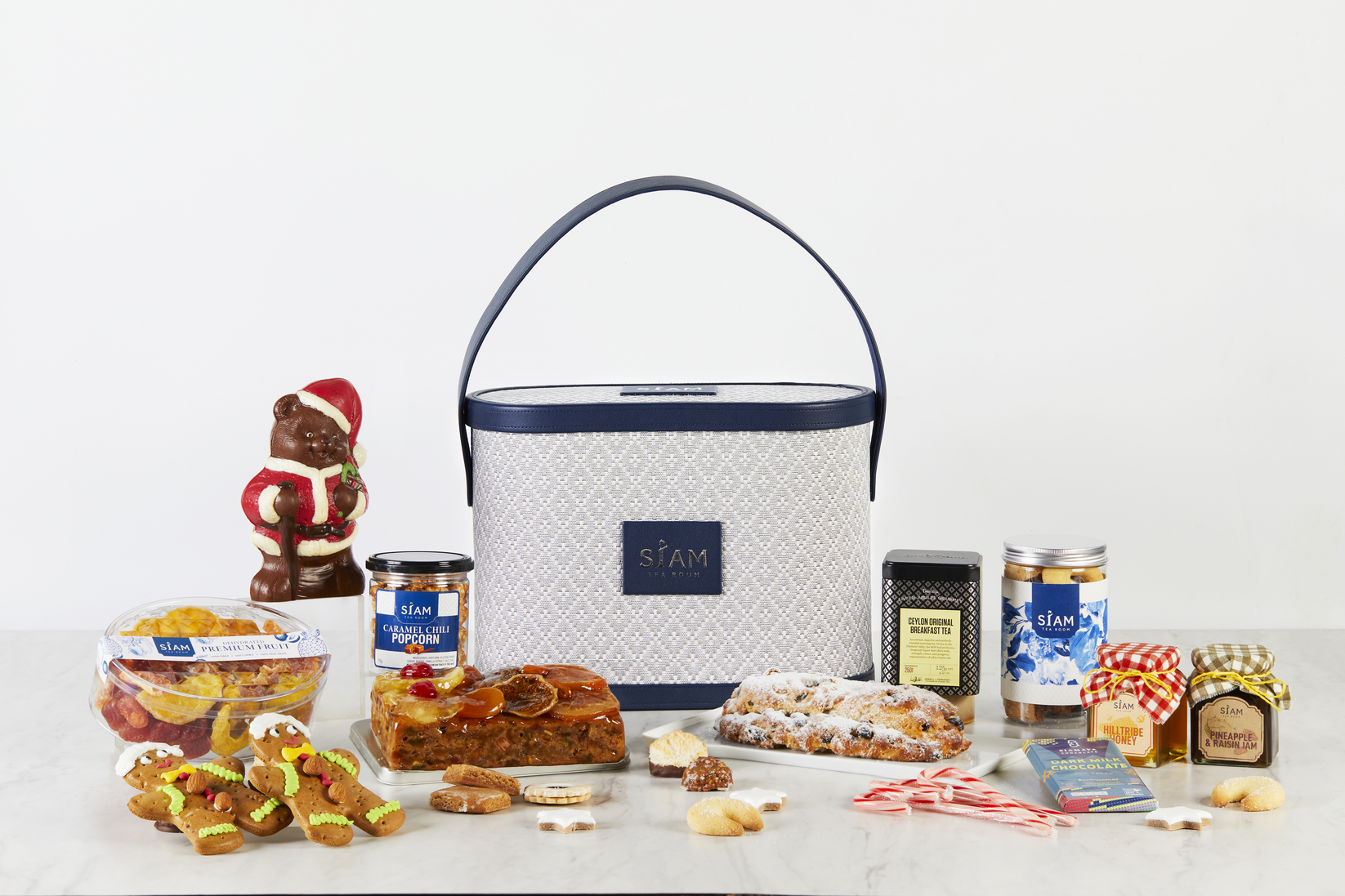 THE MARQUIS HAMPER
เดอะ มาร์คีส์
Ideal for a social gathering of friends and family, this assortment of festive treats and comes accompanied by Royal Project tea and mango jam.
THB 2,680.-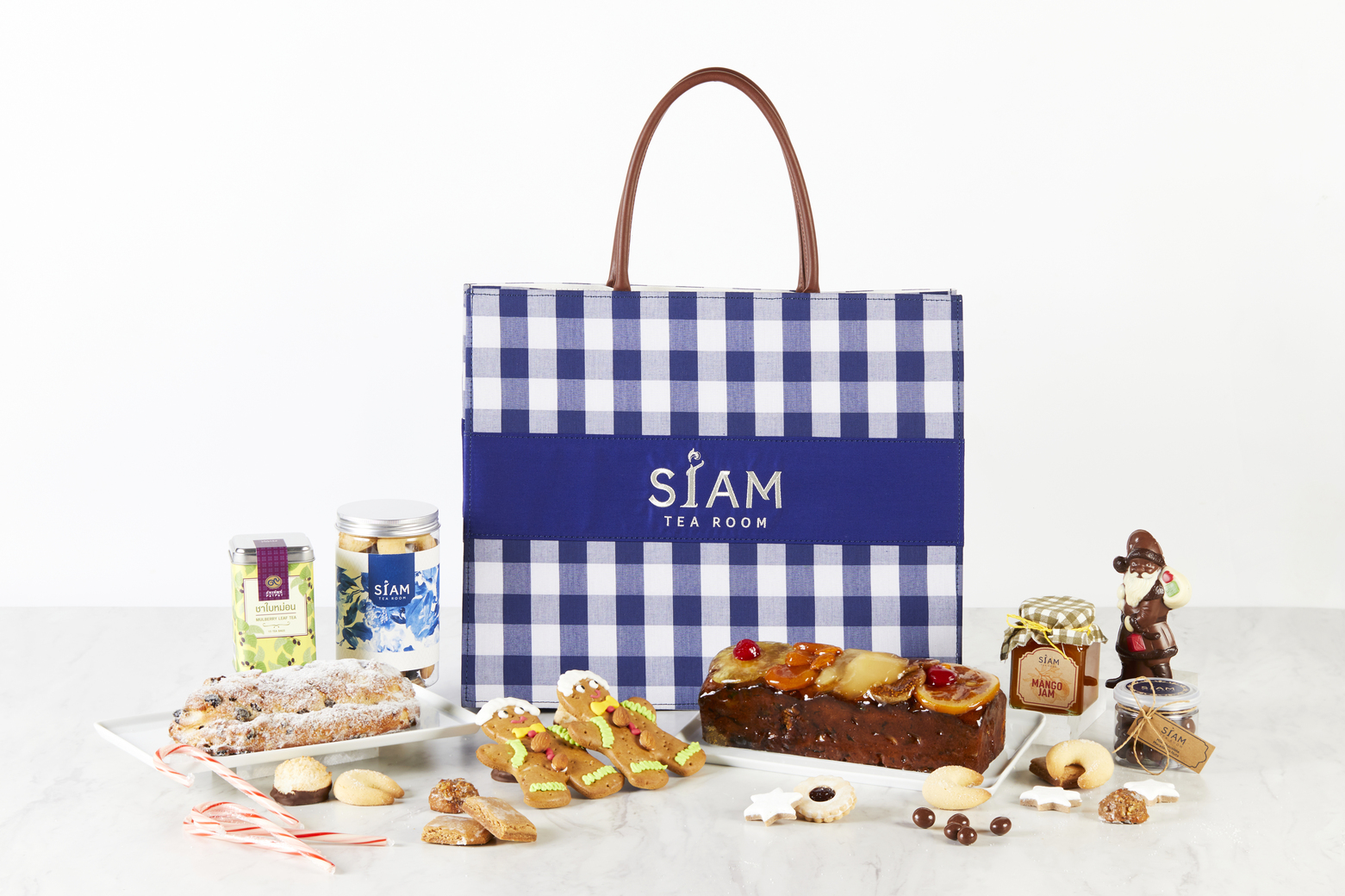 DELUXE HAMPER
ดีลักซ์
The ideal gift for the upcoming holidays, our Deluxe Hamper contains all your favorite festive sweets and goodies -  the perfect token of appreciation for your loved ones.
THB 1,780.-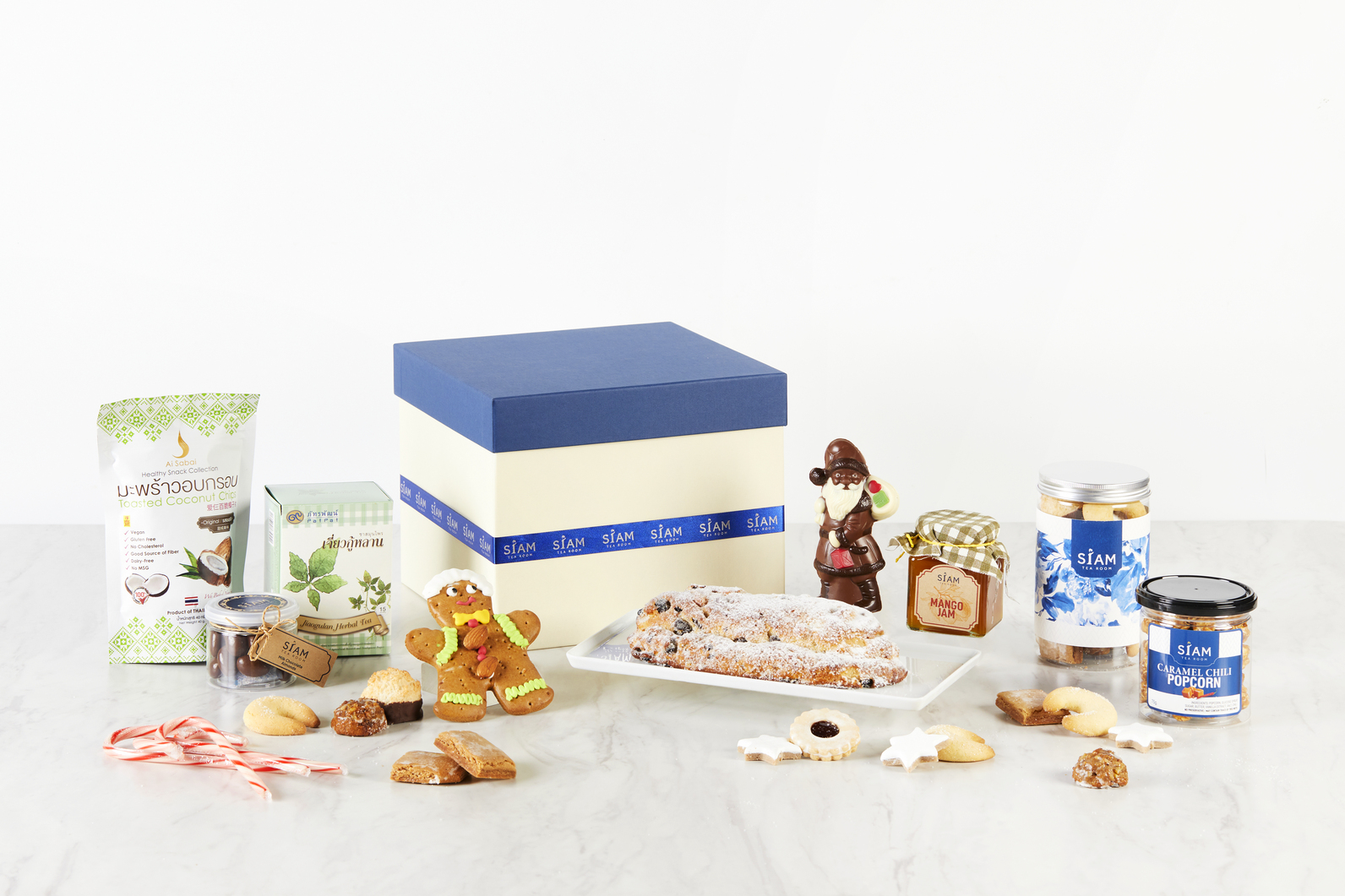 TRADITIONAL ROASTED CHRISTMAS TURKEY
Whole roasted turkey (6 kg), stuffing, sweet potatoes, Brussels sprouts and bacon, roasted pumpkin, butter glazed carrots, cranberry sauce, giblet sauce and gravy.
THB 6,000.-
HONEY HAM
Roasted honey-glazed ham (5.5 kg), roasted pineapple, apple sauce, sweet potato, Brussels sprouts, bacon, roasted pumpkin and butter-glazed carrots.
THB 5,500.-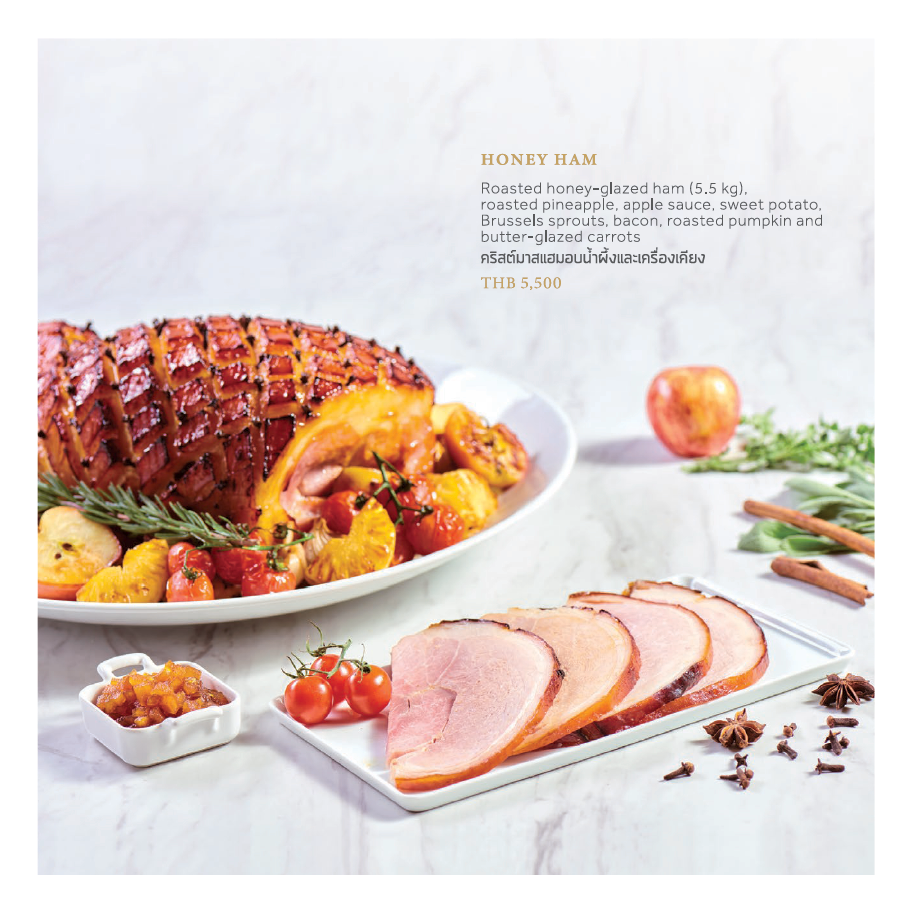 For more information, please call 02-059-5999 or email restaurant-reservations.bkkqp@marriotthotels.com
Terms and conditions
- Advance order and notice are required at least 48 hours prior to the pick-up date.
- Hampers are ready for self pick-up only at Siam Tea Room, Bangkok Marriott Marquis Queen's Park from 25 November 2021 to 31 January 2022.
- All items in each ticket must be collected at the same time and cannot be collected separately.
- Valid order confirmation (voucher) must be presented upon a redemption at the hotel.
- Some products contain nuts, egg, milk, other allergens and may require to be stored in the refrigerator. Please refer to product packaging and expiry date for further information.
- In the event of supply difficulties, hotel reserve the right to substitute goods or packaging of equal quality and value.
- This voucher is not redeemable or applicable to any special event, discount and other promotions.
- This voucher has no monetary value, non-refundable, non-changeable and non-replaceable if lost or stolen.
ข้อกำหนดและเงื่อนไข
- กรุณาสั่งซื้อและระบุวันที่ต้องการรับสินค้าล่วงหน้าอย่างน้อย 48 ชั่วโมง 
- สามารถรับสินค้าได้ด้วยตนเองที่ห้องอาหารสยาม ที รูม ชั้นล็อบบี้ โรงแรมแบงค็อก แมริออท มาร์คีส์ ควีนส์ปาร์ค ได้ตั้งแต่วันที่ 25 พฤศจิกายน 2564 จนถึง 31 มกราคม 2564
- สินค้าทั้งหมดในคำสั่งซื้อจะต้องรับพร้อมกันในครั้งเดียว ไม่สามารถแยกรับได้
- กรุณาแสดงหลักฐานการซื้อ (คูปอง) ที่ได้รับทางอีเมลล์เพื่อรับสินค้าที่โรงแรม
- ผลิตภัณฑ์บางชนิดอาจมีส่วนประกอบของถั่วลิสง ไข่ไก่ นม และสิ่งที่อาจให้เกิดอาการแพ้อื่นๆ ได้ และอาจต้องจัดเก็บในตู้เย็น กรุณาศึกษารายละเอียดบรรจุข้างผลิตภัณฑ์สำหรับข้อมูลเพิ่มเติมและวันหมดอายุ
- โรงแรมฯ ขอสงวนสิทธิ์ในการทดแทนสินค้าที่มีคุณภาพและมูลค่าเทียบเท่ากันในกรณีที่สินค้าขาดตลาด
- คูปองนี้ไม่สามารถแลกคืนเป็นเงินสด ไม่สามารถใช้ร่วมกับส่วนลดและโครงการส่งเสริมการขายอื่นๆ ได้
- คูปองนี้เมื่อซื้อแล้วไม่สามารถขอเปลี่ยน ยกเลิกหรือขอคืนเงินได้ และไม่สามารถให้ออกทดแทนได้ในกรณีสูญหายหรือถูกลักทรัพย์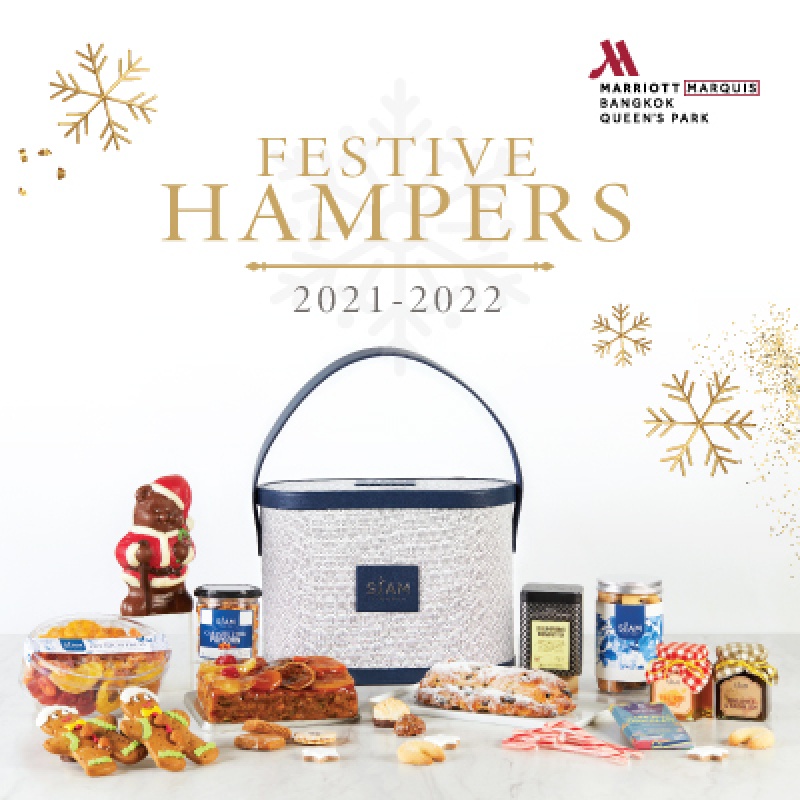 Venue Details
Siam Tea Room | สยาม ที รูม
199 Sukhumvit 22
Khlong Toei, Bangkok, 10110