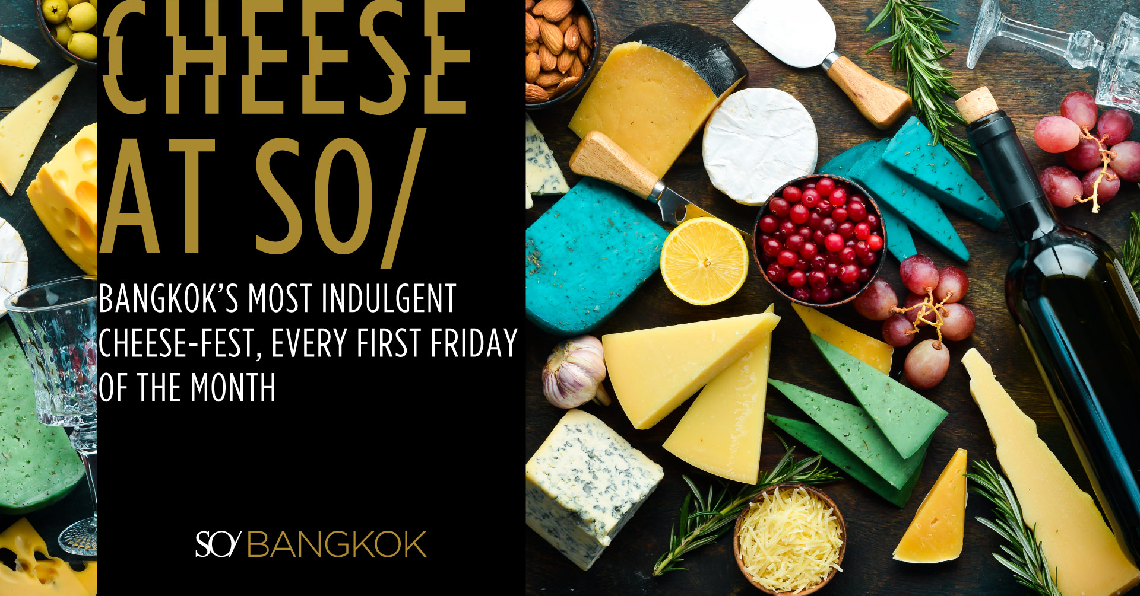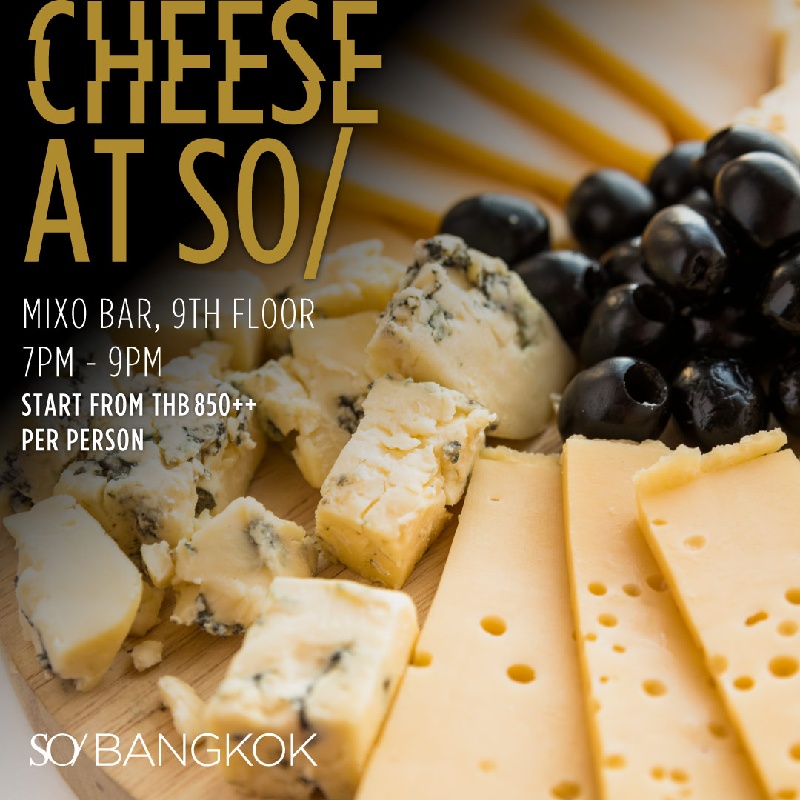 Venue Details
MIXO Bar
SO/ Bangkok
Bangrak, Bangkok, 10500
CHEESE at SO/
FOR THE LOVE OF CHEESE
Calling all cheese lovers for a special Cheese at SO/ with cheese selection by chef Thomas Smith.
And enjoy two full hours of free-flow beverage tipples
alongside artisan breads, cold cuts, charcuterie, trimmings, plus live DJ!
Every 1st Friday each month from August - October 2022 at 7pm – 9pm at MIXO Bar:
5 August 2022
2 September 2022
7 October 2022

🍽️ THB 1,100 net per person for unlimited cheese
🍸 THB 1,499 net per person with free-flow wine
🥂 THB 2,000 net per person Unlimited cheese with free-flow wine sommelier selecti

บรรดาคนรักชีสห้ามพลาด กับชีสเลิศรส คัดสรรโดยเชฟ โทมัส สมิธ
พร้อมไวน์เเละเมนูทาปาสอื่นๆตลอดสองชั่วโมงเต็ม
ท่ามกลางเสียงดนตรีจากดีเจ เเละวิวยามค่ำของสวนลุมพินี ในงาน Cheese at SO
ทุกวันศุกร์แรกของเดือน ตั้งแต้เดือนสิงหาคม ถึง เดือนตุลาคม 19:00 - 21:00 น. ที่มิกโซ บาร์ ชั้น 9 โรงเเรม โซ เเบงคอก:
5 สิงหาคม 2022
 2 กันยายน 2022
7 ตุลาคม 2022 
 
🍽️ ราคาเพียง 1,100 บาทสุทธิต่อท่าน สำหรับอันลิมิตเตดชีส
🍸 1,499 บาทสุทธิต่อท่าน สำหรับอันลิมิตเตดชีสเเละไวน์
🥂 ราคา 2,000 บาทสุทธิต่อท่าน สำหรับ อันลิมิตเตดชีสเเละไวน์ sommelier selection
List of special Sommelier Selection in August 2022:
Red wine: Marious by Micheal Chapoutier Syrah- Grenache Pays d'Oc IGP
Grape variety: Grenache and Syrah
Descriptions: Delicately aromatic, powerfully complex and simply elegant with hints of red berries, concentrated floral aromas and silky tannins. Making for the perfect pairing with semi-firm as well as soft and creamier cheeses.
Region: Pays d'Oc, Southern France
White wine: Marious by Micheal Chapoutier Vermentino Pays d'Oc IGP
Grape variety: Vermentino
Descriptions: Light, fresh and fruity dry white wine with delicate hints of peach, white fruit and ripe fruit aromas. Making for a perfectly balanced wine with lovely acidity. The perfect pairing for lighter, subtle cheeses.
Region: Pays d'Oc, Southern France
Terms and conditions:
All fixed date ticket types are valid on the selected date only. You can join only the selected session only.
All vouchers are valid for one-time use only.
All vouchers have no cash value, non refundable and cannot be exchanged to other services.
All vouchers cannot be used with other discounts or third-party promotions.
Advance reservations are required at Tel: 02 624 0000
E-voucher must be present upon arrival.
Hotel reserves the right to change operating hours without prior notice.
Number of each ticket type is limited.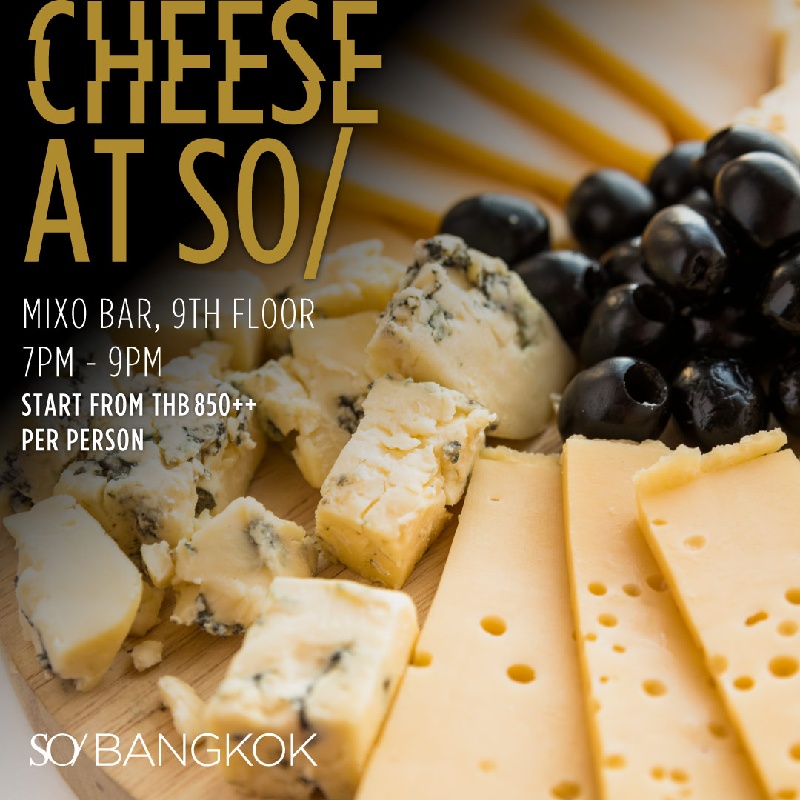 Venue Details
MIXO Bar
SO/ Bangkok
Bangrak, Bangkok, 10500