Chef's Table by Ian Kittichai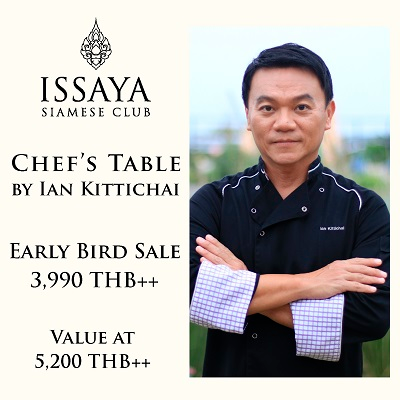 Venue Details
Issaya Siamese Club
Chua Ploeng
Thung Muahmek, Bangkok, 10120
Chef's Table by Ian Kittichai
Join Chef Ian on an exclusive international gastronomic journey featuring Monsieur Jean-Paul oysters, Maine lobster, French foie gras, winter truffle, Hokkaido uni, Kagoshima beef and more.

Chef's Table by Ian Kittichai
10 courses
Early Bird Sale 3,990 THB++
Value at 5,200 THB++

How to BOOK
Please call 082-369-1641 to book the dining date. The Issaya Siamese Club team will confirm your reservation on the phone and redeem your e-ticket immediately. 

Chef's Table dates/Time:
6pm onwards
2020 November 26

2020 December 4, 5, 11, 18, 19, 24, 26

2021 January dates to be announced in December 2020


 
Terms and conditions
Vouchers can be used for the Chef's Table at Issaya Siamese Club only. 

Vouchers are valid for one-time use only.

Vouchers have no cash value.

Vouchers cannot be used with other discounts or third-party promotions.

Each voucher shall be considered redeemed immediately upon each confirmed reservation by Issaya Siamese Club.

Advance reservations are required and subject to availability.

There is a maximum of 10 seats per Chef's Table dining experience. Issaya Siamese Club will arrange the seats accordingly.

Vouchers cannot be copied or altered. Issaya Siamese Club is not responsible for any voucher loss or damage and Issaya Siamese Club reserves the right to reject any voucher that has been tampered with or found in any way unacceptable.

E-vouchers or printout vouchers must be presented to Issaya Siamese Club's staff upon arrival at the restaurant. 

The validity for each voucher is as mentioned in the Terms and Conditions and the event description, including the specified date. Validity cannot be changed or extended.

All vouchers are non-refundable.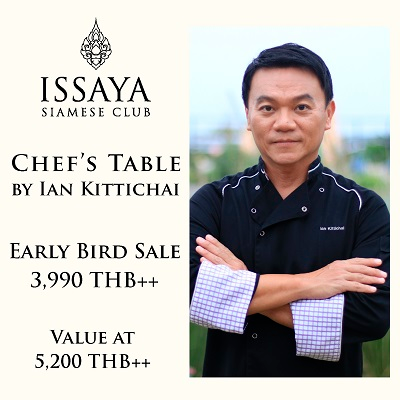 Venue Details
Issaya Siamese Club
Chua Ploeng
Thung Muahmek, Bangkok, 10120