Early Bird Offer | Event-only Promotion for Loy Krathong at The Salil Hotel Riverside-Bangkok
This event has already taken place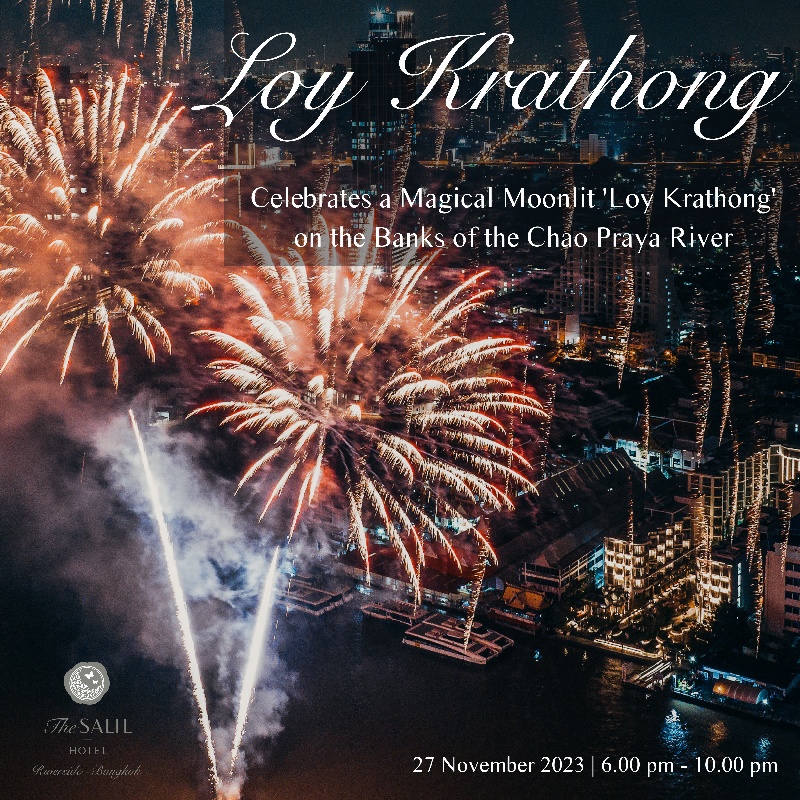 Venue Details
The Salil Hotel Riverside - Bangkok
The Salil Hotel Riverside - Bangkok 2052/7-9 Charoenkrung 72/1 Alley, Wat Phrayakrai,
Bangkholaem, Bangkok, 10120
Early Bird Offer | Event-only Promotion for Loy Krathong at The Salil Hotel Riverside-Bangkok
Celebrates a Magical Moonlit 'Loy Krathong' on the Banks of the Chao Praya River
There's no better way to celebrate this year's festival than right alongside the majestic Chao Phraya River.

This year, The Salil Hotel Riverside – Bangkok presents two special packages as part of an extraordinary riverside celebration on 27 November 2023 featuring spectacular fireworks show, live band performance, complimentary sustainable krathong and much more throughout the evening.

Loy Krathong event-only package
2 selected drinks at THB 1,766 net per person
Indoor International Buffet at THB 3,500 net per person
Outdoor International Buffet at THB 4,500 net per person
Kids under 12 at 50% discount
Prices include an international buffet dinner.
Indulge in a culinary extravaganza at our Loy Krathong buffet dinner, featuring a spectacular array of dishes. Highlights include appetizers like grilled marinated chicken skewers, Chor Muang (flower-shaped dumplings), Mieng Kum (lotus & betel leaves with condiments), and minced shrimp wrapped sugarcane. Soup lovers can relish truffle cream soup and spicy & sour soup with prawn, mushrooms, young coconut, and Galangal. Don't miss the carving station with roasted lamb leg with herbs. Our Thai food station offers steamed scallop souffle, wok-fried spicy curry pork fillet with cumin leaf, and Phad Thai. Explore the Asian corner with Chinese BBQ and the Silver Waves Dim Sum station. Dive into traditional Thai papaya salad, vibrant salads like crispy shrimp with spicy mango salad and spicy pomelo salad with crispy condiments, and savor Fresh Oysters Fines de Claire N° 4. Our Japanese corner offers sushi and sashimi, while the bakery and cold kitchen features international cheese and cold cuts. Conclude your meal with assorted Thai desserts, ice cream, a flowing chocolate fountain, Kanom Krok station, and seasonal fresh fruits. Plus, enjoy a special treat with half of Maine lobster and Foie Gras per person from our Western cuisine selection.
 
ฉลองคืนวันเพ็ญเดือนสิบสอง พร้อมสืบสานและอนุรักษ์ประเพณีไทยในเทศกาลลอยกระทง เต็มอิ่มกับบุฟเฟ่ต์อาหารนานาชาติมื้อค่ำ และกิจกรรมพิเศษมากมาย ที่ โรงแรม เดอะ สลิล ริเวอร์ไซด์ กรุงเทพ
จัดเต็มกับบุฟเฟ่ต์มื้อค่ำหลากหลายเมนู ตั้งแต่อาหารเรียกน้ำย่อย อย่าง เมี่ยงกลีบบัวใบชะพลู ช่อม่วง สลัดต่างๆ ซุปครีมเห็ดทรัฟเฟิล ต่อด้วยอาหารขึ้นชื่อมากมาย อาทิ ซูชิ ติ่มซำ ยำกุ้งฟู ห่อหมกหอยเชลล์ แกงปูใบชะพลู ส้มตำกุ้ง-แซลมอนสด บาร์บีคิวเนื้อวากิว ปิดท้ายมื้อด้วย ขนมหวานทั้งไทยและนานาชาติ ไอศกรีม ผลไม้ตามฤดูกาล และชีสนานาชนิด
พร้อมรับเมนูพิเศษ ฟัวกราส์ และเมนล็อบสเตอร์ครึ่งตัว ต่อท่าน อีกด้วย
นอกจากนี้ ยังได้เพลิดเพลินกับดนตรีสด และการแสดงพลุ ตลอดค่ำคืน พร้อมรับกระทงใบตองสำหรับ 2 ท่านอีกด้วย
หรือท่านที่สนใจเฉพาะบุฟเฟ่ต์มื้อค่ำ ก็สามารถอิ่มอร่อยกับเราได้ ในราคาสุดพิเศษ
เครื่องดื่ม 2 เมนู ราคาท่านละ 1,766 บาทสุทธิ
ที่นั่ง indoor ราคาท่านละ 3,500 บาทสุทธิ
ที่นั่ง outdoor ราคาท่านละ 4,500 บาทสุทธิ
พิเศษในราคา 50% สำหรับเด็กอายุต่ำกว่า 12 ปี 
 ดื่มด่ำบรรยากาศคืนพระจันทร์เต็มดวง ที่โรงแรม เดอะ สลิล ริเวอร์ไซด์ กรุงเทพ ในวันจันทร์ที่ 27 พฤศจิกายน 2566 เวลา 18.00 - 22.00 น.
สำรองที่นั่งหรือสอบถามรายละเอียดเพิ่มเติม โทร 0 2844 8787 หรือไลน์ @thesalilriverside
 
Terms & Conditions
• The rate is inclusive of tax and service charge.
• This voucher must be presented at the time of booking or upon arrival.
• Valid until 27th November 2023.
• Cannot be extended under any circumstances.
• Cannot be used in conjunction with any other discounts, promotions, or special events.
• This voucher is non-refundable and cannot be exchanged for cash in part or full and is valid for a single transaction only.
• For more information and reservation, please contact tel. 
+66 2 844 8787
 or line @thesalilriverside
• The Salil Hotel Riverside - Bangkok reserves the right to change any terms and conditions at any time without prior notice.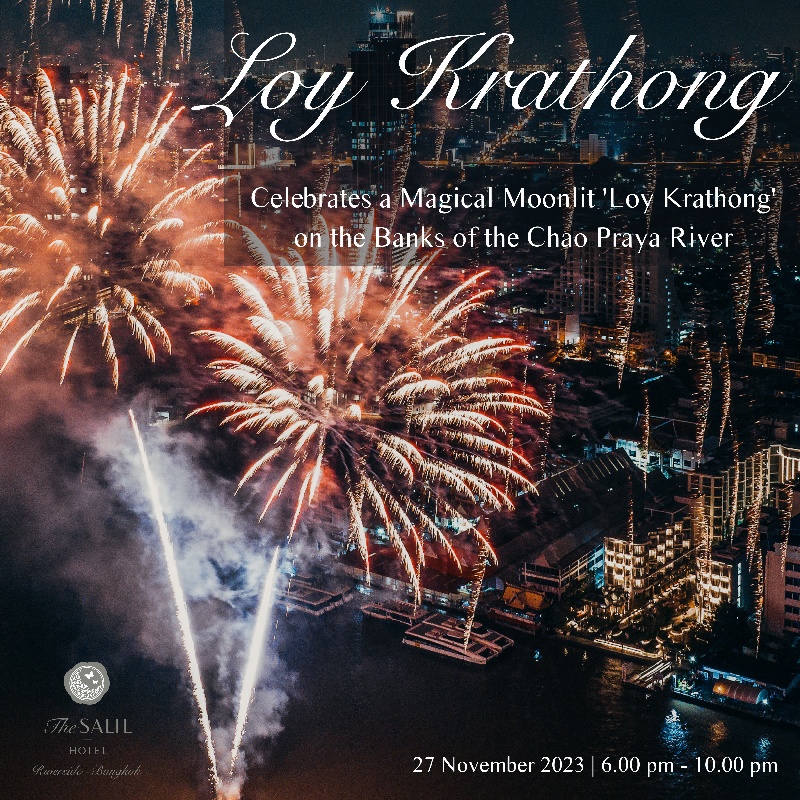 Venue Details
The Salil Hotel Riverside - Bangkok
The Salil Hotel Riverside - Bangkok 2052/7-9 Charoenkrung 72/1 Alley, Wat Phrayakrai,
Bangkholaem, Bangkok, 10120