Ecstatic Dance @ AUM - Koh Phangan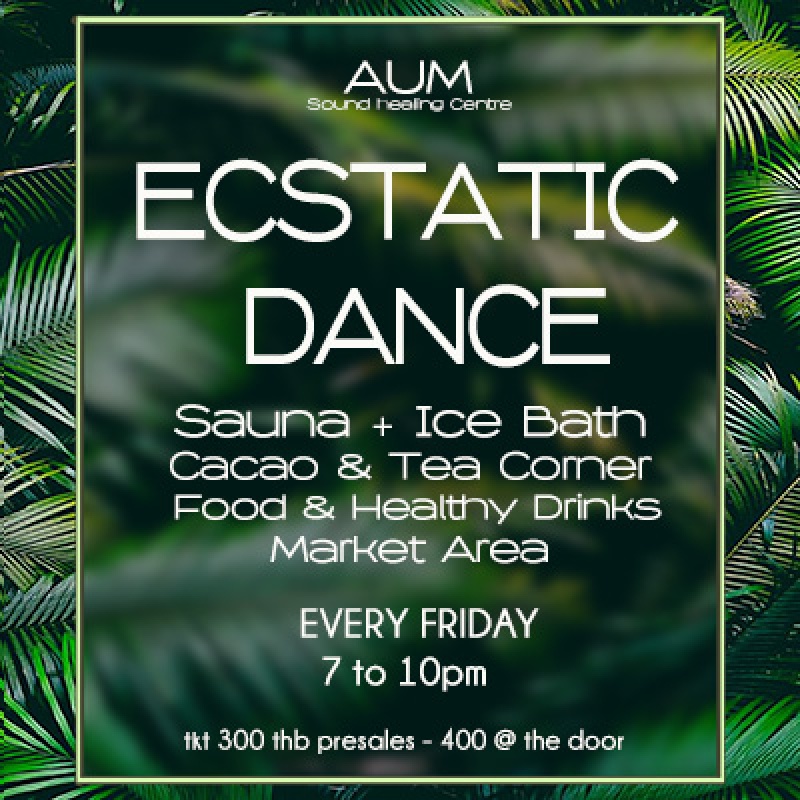 Venue Details
AUM Sound Healing Center
Ko Pha-ngan
Ko Pha-ngan, surat thani, 84280
Ecstatic Dance @ AUM - Koh Phangan
Welcome to ECSTATIC DANCE @ AUM
~~~~~~~~~~~~~~~~~~~
EVERY FRIDAY 
JUL
1 Shay Sunshay
8 Jonny T Fusion
15 Tristan
22 Jonny T Fusion
29 Tristan
SCHEDULE:
-----------
Doors open~ 6.30pm
Ecstatic Dance ~ 7pm to 10pm
Sound Bath / Shavasana ~ 10pm to 10.20pm
Closing Circle ~ 10:20pm to 10:30pm
Sauna, Ice bath & bonfire till late at night
TKTs
----------
300 thb Online or 400 thb at the door (including Sauna, ice bath)
A Journey of genres including Downtempo, Deep, Oriental, Afro House, Deep, Psy Trance, Dubstep, Drum n Bass, Uplifting Organic House, Psybient, Ethnic, etc ~
Location/Map
https://www.google.com/.../data=!3m1!4b1!4m5!3m4...
∆˚∆˚∆˚∆˚∆˚∆˚∆˚∆˚∆
In order to offer the best experience, possible a LIMITED AMOUNT of 120 ppl will be allowed to attend the dance!!
First come first served!
*****************
AUM Centre is an natural venue for Dances. we will be dancing on earth (artificial grass on top) and surrounded by lush nature.
We will have the luxury of a Sauna & Ice Bath right after the dance and the space will be open till late for everybody to socialize, enjoy the vibe and integrate the magic we created during the dance.
Right next to the dance floor there is an amazing Bamboo Dome where Tea will be available.
There will be Cacao, Healthy Food and Sweets, Kombucha, and much more at the site.
Not much more words to say, just join and enjoy the Magic!!
~~~~~~~~~~~~~~~
∆˚∆˚∆˚∆˚∆˚∆˚∆˚∆˚∆
Thanks for respecting that this is a drug-free, alcohol-free, smoke-free, photo/video-free, talk-free space.
Ecstatic Dance is a form of Dance in which you are invited to use the music as a tool to let go and freely express your emotions ….. no matter what they are, love or sorrow, anger or bliss, sadness or happiness, just let everything out.
We are all here to co-create a safe and magical space for everybody to be playful, wild, and be able to step out from their own comfort zones.
There is nobody judging and no "right or wrong", you can either go crazy or sit in the middle of the dance floor, everything is welcome.
We will just remind everybody to respect each other space and ask consent (using body language) to dance with others.
Playfulness is a key factor, then just let the music and your own body do the rest!
See you all on the dance floor for a Magical Journey!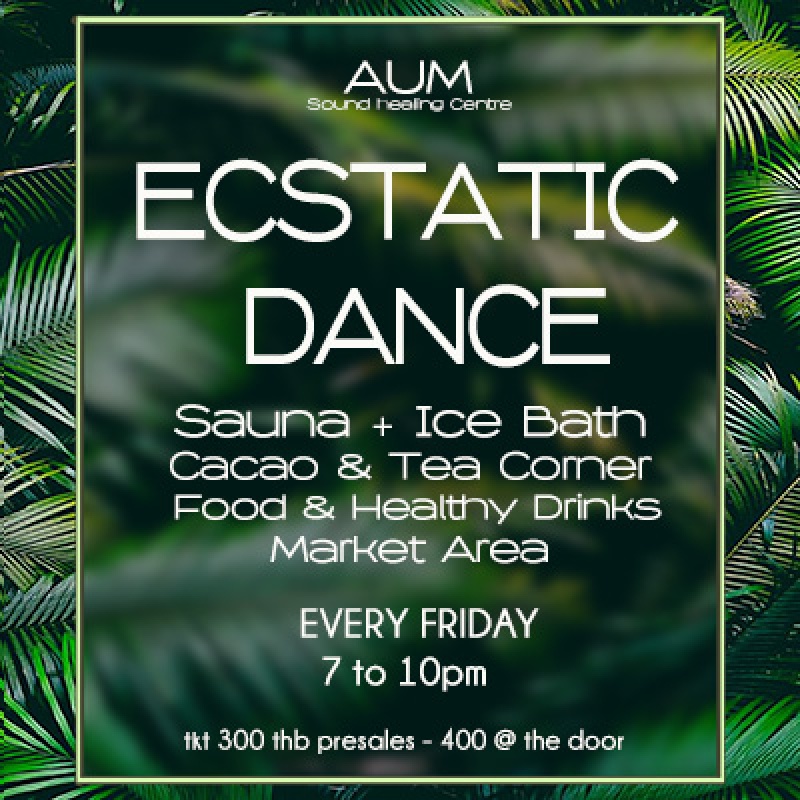 Venue Details
AUM Sound Healing Center
Ko Pha-ngan
Ko Pha-ngan, surat thani, 84280