Festive Celebrations at Carlton Hotel
Festive 𝘼𝙛𝙩𝙚𝙧𝙣𝙤𝙤𝙣 𝙏𝙚𝙖 for 2
Inclusive of 2 glasses of Prosecco
Sales Closed
Festive 𝘼𝙛𝙩𝙚𝙧𝙣𝙤𝙤𝙣 𝙏𝙚𝙖 for 4
Inclusive of 1 bottle of Prosecco
Sales Closed
𝘾𝙤𝙪𝙣𝙩 𝘿𝙤𝙬𝙣 @ 𝘾𝙤𝙤𝙡𝙞𝙣𝙜 𝙏𝙤𝙬𝙚𝙧 𝙍𝙤𝙤𝙛𝙩𝙤𝙥 𝘽𝙖𝙧
THB 2,000 F&B Credit
Sales Closed
𝘾𝙤𝙪𝙣𝙩 𝘿𝙤𝙬𝙣 @ 𝘾𝙤𝙤𝙡𝙞𝙣𝙜 𝙏𝙤𝙬𝙚𝙧 𝙍𝙤𝙤𝙛𝙩𝙤𝙥 𝘽𝙖𝙧
3 hrs free flow beverage package 9pm - Midnight
Sales Closed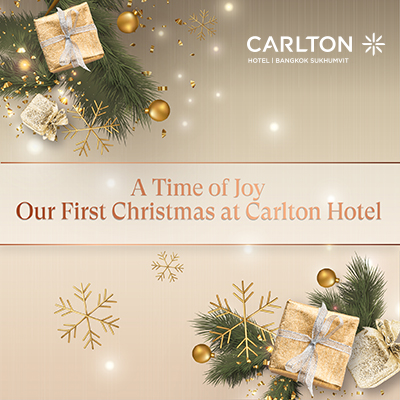 Venue Details
Carlton Hotel Bangkok Sukhumvit
Carlton Hotel Bangkok Sukhumvit, 491 Sukhumvit Rd.
Bangkok, Bangkok, 10110
Festive Celebrations at Carlton Hotel
Spend precious moments, create memories, and treat yourself and your loved ones throughout the month of December at Carlton Hotel Bangkok Sukhumvit.
From Christmas Dinners and special Afternoon Tea get-togethers to the ultimate New Year's Eve spectacular countdown, we are going all out to celebrate our first festive season…
𝙎𝙞𝙭 𝙬𝙖𝙮𝙨 𝙩𝙤 𝙘𝙚𝙡𝙚𝙗𝙧𝙖𝙩𝙚 𝙩𝙝𝙞𝙨 𝙛𝙚𝙨𝙩𝙞𝙫𝙚 𝙨𝙚𝙖𝙨𝙤𝙣:
𝘼𝙛𝙩𝙚𝙧𝙣𝙤𝙤𝙣 𝙏𝙚𝙖 @ 𝙏𝙪𝙭𝙚𝙙𝙤 𝙀𝙨𝙥𝙧𝙚𝙨𝙨𝙤 𝘽𝙖𝙧
There's  no better way to jump into that festive feeling than with a scrumptiously themed set of afternoon tea delights.
Our Festive Afternoon Tea at Tuxedo Espresso Bar features a special set for four. Priced at only 𝗧𝗛𝗕 𝟭,𝟵𝟴𝟬++ expect Santa inspired pastries and sweets, Warm Fruit Cake with Vanilla Ice Cream and Eggnog Anglaise, Scottish Scones, Lobster Thermidor Pie and  more... It comes with one bottle of Prosecco too!
Festive set for 2 persons also available at 𝗧𝗛𝗕 𝟭,𝟭𝟴𝟬++ (with 2 glasses of Prosecco included)
Menu for 2 persons  qrco.de/bbpha6
Menu for 4 persons  qrco.de/bbohGt
Available daily from 1st December until 3rd January.
Time: 12:00 – 16:30
𝙁𝙚𝙨𝙩𝙞𝙫𝙚 𝙎𝙚𝙩 𝙇𝙪𝙣𝙘𝙝 @ 𝙋𝙡𝙖𝙩𝙚 𝙍𝙚𝙨𝙩𝙖𝙪𝙧𝙖𝙣𝙩
An enchanting four-course set lunch menu awaits at Plate Restaurant with traditional festive classics such as Christmas Pudding. A  relaxed yet cheerful way to spend quality moments with friends and family. Priced  at only 𝗧𝗛𝗕 𝟱𝟴𝟬++.
Festive Set Lunch Menu qrco.de/bbqR5n
Available every day from 14th December until 26th December.
Time: 12:00 – 14:30
25 December only, 12:00 - 14:30 & 18:00 - 22:00
 
𝘾𝙝𝙧𝙞𝙨𝙩𝙢𝙖𝙨 𝘽𝙪𝙛𝙛𝙚𝙩 @ 𝙋𝙡𝙖𝙩𝙚 𝙍𝙚𝙨𝙩𝙖𝙪𝙧𝙖𝙣𝙩
Enjoy a taste of traditional Christmas at Plate on Christmas Eve.
Spend Christmas Eve the traditional way with an evening buffet. Indulge in a lavish International festive spread with interactive live cooking stations.
December 24th from 6 pm to 10 pm
Early Bird Price:

𝗧𝗛𝗕

𝟭

,

𝟲𝟵𝟬

++

per person, including soft drinks

Regular Price:

𝗧𝗛𝗕

𝟭

,

𝟵𝟵𝟬

++

per person, including soft drinks,

Free flow beverage package available at

𝗧𝗛𝗕

𝟭

,

𝟱𝟵𝟬

++

per person

Kids below 4 years, dine for free and below 12 enjoy 50% off.
Christmas Dinner Buffet Menu  qrco.de/bbqDgp
**Early Bird offer book and pay within 20 December
Known for its casual and family-friendly ambience, Plate Restaurant is open for lunch and dinner offering guests a perfect place to celebrate the holidays.
𝙊𝙧 𝙨𝙞𝙢𝙥𝙡𝙮 𝙤𝙧𝙙𝙚𝙧 𝙮𝙤𝙪𝙧 𝙁𝙚𝙨𝙩𝙞𝙫𝙚 𝙏𝙪𝙧𝙠𝙚𝙮 𝙩𝙤 𝙂𝙤!
1 - 25 December (order 1 day in advance)
Make Christmas at home special with a traditional turkey dinner prepared by our talented culinary team. We'll take the stress out of your big day while you relax, entertain your guests and celebrate in style in the comfort of your own home.
The delicious Carlton Christmas dinner to go includes one Roast Turkey (approx. 5kg) accompanied by all the trimmings, sides of Roast Vegetables, Brussels Sprouts, Cranberry Sauce, and Turkey Gravy, as well as Homemade Festive Desserts
Only 𝗧𝗛𝗕 𝟳,𝟴𝟴𝟬 𝗻𝗲𝘁, serves 6-8 persons.
Turkey Set Menu  qrco.de/bbqR5I
** 𝗘𝘅𝘁𝗲𝗻𝗱𝗶𝗻𝗴 𝘁𝗵𝗲 𝗖𝗵𝗿𝗶𝘀𝘁𝗺𝗮𝘀 𝗰𝗵𝗲𝗲𝗿 𝘄𝗶𝘁𝗵 𝗮 𝟮𝟱% 𝗗𝗶𝘀𝗰𝗼𝘂𝗻𝘁 𝗼𝗻 𝗼𝘂𝗿 𝗙𝗲𝘀𝘁𝗶𝘃𝗲 𝗧𝘂𝗿𝗸𝗲𝘆 𝗦𝗲𝘁. 𝗙𝗿𝗼𝗺 𝗧𝗛𝗕 𝟳,𝟴𝟴𝟬 𝗻𝗲𝘁 𝘁𝗼 𝗧𝗛𝗕 𝟱,𝟵𝟬𝟬 𝗻𝗲𝘁.**
For further information or to place an order, please call ☎ 02 090 7888 or email ✉️ FBreservations@carltonhotel.co.th
𝘾𝙝𝙚𝙧𝙞𝙨𝙝 the last moments of the year as you welcome the new one at Cooling Tower Rooftop Bar with views of Bangkok's skyline. Make this year's countdown an unforgettable one.
𝘾𝙤𝙪𝙣𝙩 𝘿𝙤𝙬𝙣 @ 𝘾𝙤𝙤𝙡𝙞𝙣𝙜 𝙏𝙤𝙬𝙚𝙧 𝙍𝙤𝙤𝙛𝙩𝙤𝙥 𝘽𝙖𝙧
Say goodbye to 2020 as you watch the sun go down one last time & welcome 2021 with high spirits whilst enjoying our DJs spinning the best beats all night long. Featuring DJ Groove & DJ Halfie.
New Year's Eve Count Down Package:
Option 1 F&B Credit package (including THB 2,000 F&B Credit on the night)
Early Bird

𝗧𝗛𝗕

𝟮

,

𝟬𝟬𝟬

++
Regular Price

𝗧𝗛𝗕

𝟮

,

𝟰𝟵𝟬

++
Option 2 Free flow beverage package 3hrs of free flow from 9pm- Midnight
Early Bird

𝗧𝗛𝗕

𝟮

,

𝟰𝟵𝟬

++
Regular Price

𝗧𝗛𝗕

𝟮

,

𝟵𝟵𝟬

++
**Early Bird offer book and pay within 20 December
For more information please call ☎️ 020907888 or email ✉️Fbreservations@carltonhotel.co.th
Terms & Conditions
The original voucher must be presented upon arrival.
The voucher cannot be used in conjunction with any other promotions.
The voucher is reserved for one-time usage and cannot be exchanged or redeemed for cash.
The Hotel reserves the right to change terms and conditions without prior notice.
The voucher can be used only at the Bars & Restaurants mentioned above.
The Voucher is valid until 31 December 2020 and no extension of the expiry date will be allowed.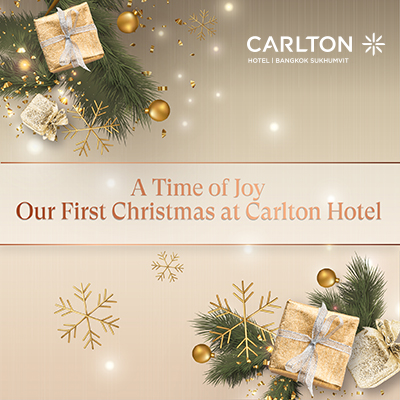 Venue Details
Carlton Hotel Bangkok Sukhumvit
Carlton Hotel Bangkok Sukhumvit, 491 Sukhumvit Rd.
Bangkok, Bangkok, 10110