Flash Sale - Festive Package at My Beach Resort Phuket
New Year Festive Package Flash Sale - Deluxe Room, 2-night package inclusive of festive dinner
Sales Closed
New Year Festive Package Flash Sale - Premier Pool Access, 2-night package inclusive of festive dinner
Sales Closed
New Year Festive Package Flash Sale - Premier Seaview, 2-night package inclusive of festive dinner
Sales Closed
New Year Festive Package Flash Sale - Premier Seaview Studio, 2-night package inclusive of festive dinner
Sales Closed
New Year Festive Package Flash Sale - Premier Beachfront, 2-night package inclusive of festive dinner
Sales Closed
New Year Festive Package Flash Sale - Deluxe Room, 3-night package inclusive of festive dinner
Sales Closed
New Year Festive Package Flash Sale - Premier Pool Access, 3-night package inclusive of festive dinner
Sales Closed
New Year Festive Package Flash Sale - Premier Seaview, 3-night package inclusive of festive dinner
Sales Closed
New Year Festive Package Flash Sale - Premier Seaview Studio, 3-night package inclusive of festive dinner
Sales Closed
New Year Festive Package Flash Sale - Premier Beachfront, 3-night package inclusive of festive dinner
Sales Closed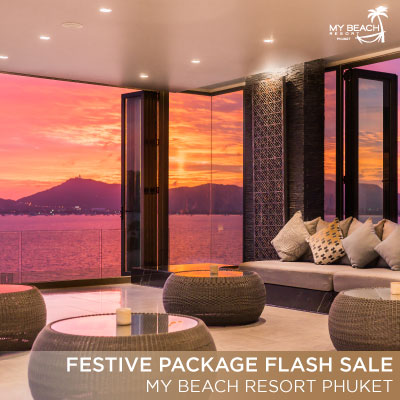 Venue Details
My Beach Resort
My Beach Resort 105 Soi Ao-Yon Khaokhad, Wichit,
Mueang, Phuket, 83000
Flash Sale - Festive Package at My Beach Resort Phuket
🏝 Escape to My Beach Resort, a private hideaway beside a celestial blue sea on Phuket's stunning Cape Panwa. Nestled on the tranquil bay of Ao Yon with panoramic views and sunsets that dazzle, the rest of the world does not exist. Head away from the crowd for a relaxing stay along with an indulgence of delicious cuisine including our renowned Southern Cuisine, lifestyle facilities and refined spaces.
⛱ My Beach Resort Phuket is recognised in the Michelin Guide 2019 and 2020 and recently awarded with TripAdvisor's Travelers Choice 2020.
🎆 Join us in welcoming the New Year under the starry skies of Panwa Beach. My Beach Resort Phuket launches a Flash Sale for only 10 days with special packages of two- and three-night stays for visiting Phuket as we bid farewell to 2020 and welcome 2021.
My Beach Resort Festive Flash Sale
Book Date: 19 - 29 November 2020 
Stay Date: 29 December 2020-3 January 2021 
 

2-night package

(2-night stay inclusive of
one Festive Dinner for two)

3-night package
(3-night stay inclusive of
one Festive Dinner for two)

Deluxe

9,900

12,800

Premier Pool Access

12,100

16,100

Premier Seaview

12,700

17,000

Premier Seaview Studio

13,900

18,800

Premier Beachfront

15,900

21,800
For more information, please do not hesitate to contact us at 076 305 066 or Line @mybeachphuket. Guests who would like to book through the We Travel Together campaign can contact the resort for more details.
Terms & Conditions
- Tickets must be purchased during 19-29 November 2020 for stays during 29 December 2020 – 3 January 2021.
- If stay does not cover the night of 31 December during the festive dinner, guest can redeem for set dinner at My Café.
- This promotion cannot be combined with any other offers and/or promotions except for We Travel Together campaign.
- Room nights cannot be used separately. Guests must redeem their stay consecutively as per what is stated on the ticket. 
- Child under 12 sharing the sharing same bed with parents enjoy complimentary breakfast, and the Festive Dinner at 50% price.
- Child above 12 years or an extra adult sharing same room is subject to an additional charge of THB 3,500 for 2 nights package and 4,500 for 3 nights package.
- Non-refundable, non-extendable and non-redeemable in cash.
- Advance reservations required and is subject to availability.
Explore your stay and get to know our rooms better as below:

Deluxe Rooms: this 48 sq.m room is located on the upper level of the resort features calming earth tone interiors and a spacious private balcony. 

Premier Pool Access: dip your toes or go all out and jump in the pool directly from the comfort of your private balcony at the 38 sq.m Pool Access room. 

Premier Seaview: admire the stunning panoramic sea views from the spacious balcony of this 48 sq.m room featuring an elegant bathroom with a glass enclosed shower. 

Premier Seaview Studio: wake up to invigorating views of the Andaman Sea, a view you can enjoy from your private outdoor bathtub at this 48 sq.m studio

Premier Beachfront: situated on the upper floor, this 48 sq.m room offers extra privacy for guests while still being only a few steps away from the white beach.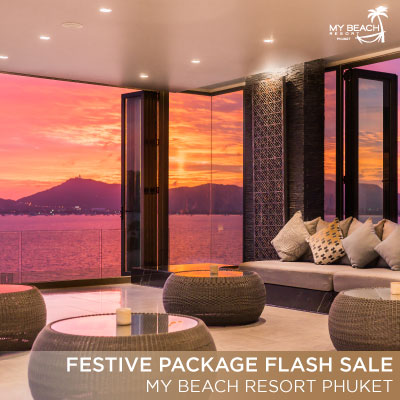 Venue Details
My Beach Resort
My Beach Resort 105 Soi Ao-Yon Khaokhad, Wichit,
Mueang, Phuket, 83000