Fly To The Moon - 10 Year Anniversary
18+
03:00pm, Fri 29th Dec 2023 - 03:00am, Tue 2nd Jan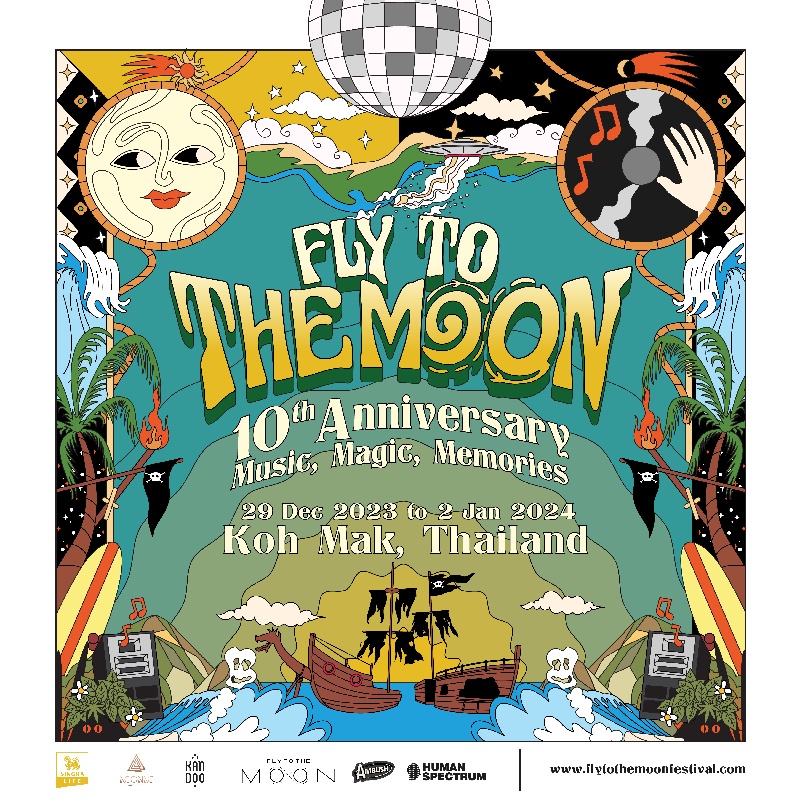 Venue Details
Koh Mak Island
Koh Mak
Koh Kut, Trat, 23120
Fly To The Moon - 10 Year Anniversary
18+
03:00pm, Fri 29th Dec 2023 - 03:00am, Tue 2nd Jan 2024
 𝐅𝐓𝐓𝐌'𝐬 𝟏𝟎𝐭𝐡 𝐀𝐧𝐧𝐢𝐯𝐞𝐫𝐬𝐚𝐫𝐲: 𝐀 𝐃𝐞𝐜𝐚𝐝𝐞 𝐨𝐟 𝐌𝐚𝐠𝐢𝐜, 𝐌𝐮𝐬𝐢𝐜 & 𝐌𝐞𝐦𝐨𝐫𝐢𝐞𝐬! 
It's been a magical journey since the inception of Fly To The Moon, and we're about to embark on our 𝑚𝑜𝑠𝑡 𝑒𝑛𝑐ℎ𝑎𝑛𝑡𝑖𝑛𝑔 𝑐ℎ𝑎𝑝𝑡𝑒𝑟 yet!
Join us as we celebrate 10 years of moonlit memories, cosmic beats, and unforgettable moments under the stars of Koh Mak, Thailand. 
𝐒𝐚𝐯𝐞 𝐭𝐡𝐞 𝐝𝐚𝐭𝐞𝐬: 𝐃𝐞𝐜𝐞𝐦𝐛𝐞𝐫 𝟐𝟗, 𝟐𝟎𝟐𝟑, 𝐭𝐨 𝐉𝐚𝐧𝐮𝐚𝐫𝐲 𝟐, 𝟐𝟎𝟐𝟒, as we celebrate New Year's and transform the island of Koh Mak into a paradise of music and togetherness. 
But this isn't just about music; it's a 𝑚𝑎𝑔𝑖𝑐𝑎𝑙 𝑗𝑜𝑢𝑟𝑛𝑒𝑦 𝑜𝑣𝑒𝑟 𝑓𝑖𝑣𝑒 𝑤ℎ𝑜𝑙𝑒 𝑑𝑎𝑦𝑠, taking you to hideaways, cozy cottages, beach sundowners, and boat cruises. We've got you covered with national and international record selectors, promising a sonic adventure like no other. 
𝐀𝐩𝐚𝐫𝐭 𝐟𝐫𝐨𝐦 𝐭𝐡𝐞 𝐦𝐮𝐬𝐢𝐜𝐚𝐥 𝐟𝐞𝐬𝐭𝐢𝐯𝐢𝐭𝐢𝐞𝐬, 𝐭𝐡𝐞𝐫𝐞 𝐰𝐢𝐥𝐥 𝐛𝐞 𝐨𝐩𝐩𝐨𝐫𝐭𝐮𝐧𝐢𝐭𝐢𝐞𝐬 𝐟𝐨𝐫 𝐲𝐨𝐮 𝐭𝐨 𝐠𝐞𝐭 𝐚𝐜𝐭𝐢𝐯𝐞 𝐚𝐧𝐝 𝐞𝐱𝐩𝐥𝐨𝐫𝐞 𝐭𝐡𝐞 𝐢𝐬𝐥𝐚𝐧𝐝'𝐬 𝐦𝐚𝐧𝐲 𝐚𝐜𝐭𝐢𝐯𝐢𝐭𝐢𝐞𝐬 such as yoga, cooking classes, frisbee golf, volleyball, kayaking, paddle-boarding, and even coral planting. At FTTM, we hold Koh Mak as dearly as a mother holds her children, and we ask for your help in preserving its natural beauty. Please join us in keeping the island clean and being mindful of your trash. Let's show the world how music lovers can also be nature lovers. 
𝐓𝐡𝐞 𝐟𝐢𝐫𝐬𝐭 𝐩𝐡𝐚𝐬𝐞 𝐨𝐟 𝐨𝐮𝐫 𝐬𝐭𝐞𝐥𝐥𝐚𝐫 𝐥𝐢𝐧𝐞𝐮𝐩 𝐰𝐢𝐥𝐥 𝐛𝐞 𝐮𝐧𝐯𝐞𝐢𝐥𝐞𝐝 𝐢𝐧 𝐥𝐚𝐭𝐞 𝐎𝐜𝐭𝐨𝐛𝐞𝐫. Keep your eyes on our Facebook & Instagram pages @flytothemoonfestival for exclusive updates. 
 𝐆𝐞𝐭𝐭𝐢𝐧𝐠 𝐭𝐨 𝐊𝐨𝐡 𝐌𝐚𝐤:
Here are some options:
- Public minivan or bus from Ekkamai Bus Terminal to Trat (Laem Ngop Pier).
- Private car or minivan. Book a ride for around 3,500 THB or a minivan for 4,500 THB.
- From Laem Ngop Pier (Trat) to Koh Mak, you'll need to take a speedboat. 
𝗥𝗲𝗺𝗲𝗺𝗯𝗲𝗿 𝘁𝗼 𝗯𝗼𝗼𝗸 𝘆𝗼𝘂𝗿 𝘀𝗲𝗮𝘁 𝗶𝗻 𝗮𝗱𝘃𝗮𝗻𝗰𝗲.
See you on Koh Mak, we are looking forward to dancing with you to the 𝑚𝑜𝑜𝑛 𝑎𝑛𝑑 𝑏𝑎𝑐𝑘!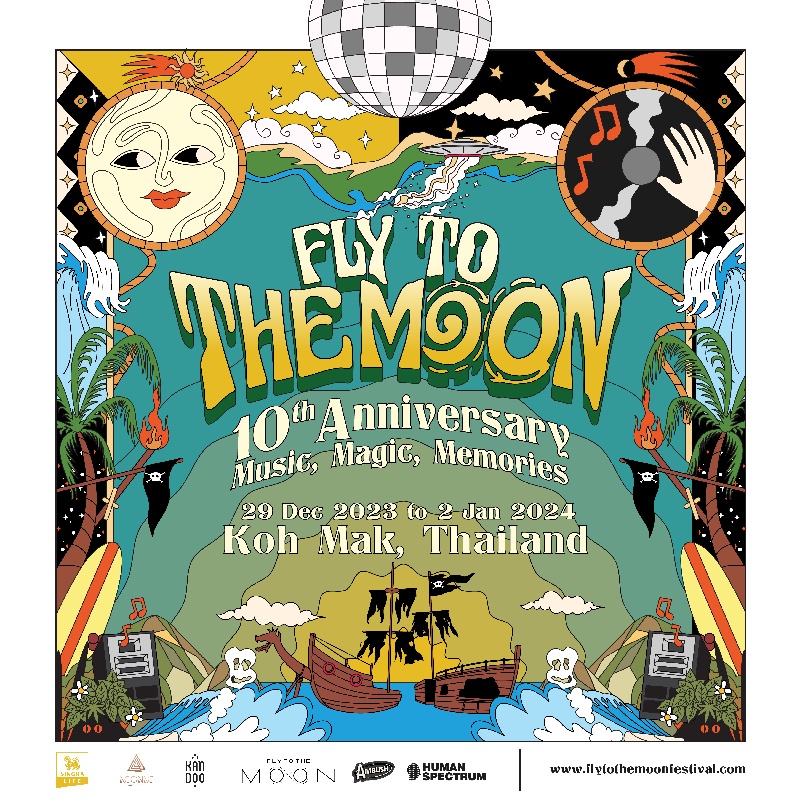 Venue Details
Koh Mak Island
Koh Mak
Koh Kut, Trat, 23120