HMA 8.8 Flash Sale [HMAMS]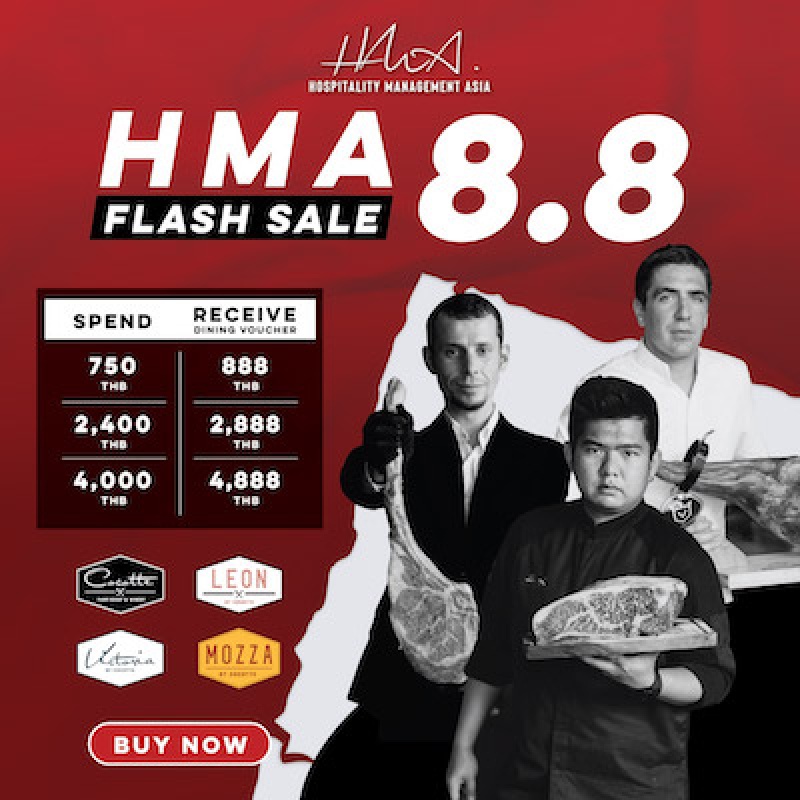 Venue Details
ALL VENUES (Hospitality Management Asia)
695 Sukhumvit Rd Khlong Tan Nuea Watthana
Bangkok, Bangkok, 10110
HMA 8.8 Flash Sale [HMAMS]
***** HMA 8.8 Flash Sale! *****
This month we have a selection of exclusive dining vouchers that can be enjoyed at any of our renowned Bangkok venues.
Escape the heat of Bangkok and retreat to one of our restaurants for a great meal. HMA Vouchers make the perfect gift for friends and family, or you can treat yourself to something special 😉
EXCLUSIVE OFFERS JUST FOR YOU
OFFER 1 - Spend THB 750 & receive a THB 888 dining voucher
OFFER 2 - Spend THB 2,400 & receive a THB 2,888 dining voucher
LIMITED OFFER - Spend THB 4,000 & receive a THB 4,888 dining voucher 
Selling period: 5 - 15 August 2022
The HMA 8.8 Flash Sale Vouchers are valid at any of these HMA establishments...
- Cocotte Farm Roast & Winery (Sukhumvit 39) | T: 092 664 6777 | https://www.cocotte-bangkok.com/
- Mozza by Cocotte (EmQuartier, ground floor) | T: 097 004 0072 | https://www.mozza-bangkok.com/
- Mozza by Cocotte (Siam Paragon, ground floor) | T: 062 208 8828 | https://www.mozza-bangkok.com/
- Victoria by Cocotte (EmQuartier, ground floor) | T: 092 390 8080 | https://www.victoria-bangkok.com/
- Leon by Cocotte (EmQuartier, ground floor) | T: 063 267 7778 | https://www.leon-bangkok.com/
- Victoria by Cocotte (CentralWorld, first floor) | T: 065 946 4434 | https://www.victoria-bangkok.com/
TERMS AND CONDITIONS
• The HMA 8.8 Flash Sale Vouchers (further referred to as "the vouchers") can be enjoyed and be redeemed within 90 days from the date of purchase (the date of purchase is located under the "Order ID"), no extensions will be accommodated
• The vouchers can only be enjoyed and redeemed at these Bangkok Hospitality Management Asia establishments… (1) Cocotte Farm Roast & Winery (Sukhumvit 39), (2) Mozza by Cocotte (EmQuartier), (3) Mozza by Cocotte (Siam Paragon), (4) Victoria by Cocotte (EmQuartier), (5) Leon by Cocotte (EmQuartier) or (6) Victoria by Cocotte (CentralWorld)
• The HMA 8.8 Flash Sale Vouchers (further referred to as "the vouchers") can be enjoyed and redeemed only on Monday, Tuesday, Wednesday or Thursday, no vouchers may be redeemed on Friday, Saturday or Sunday
• The voucher may not be used on Public Holidays and special occasions. Blackout dates for this voucher include: August 12th (The Queen Mother's Birthday), October 13th (Late King's Memorial Day), October 24th (Substitution for Chulalongkorn Memorial Day)
• A reservation to your chosen establishment is required and is subject to seating availability and times, please notify the restaurant that you will be redeeming your voucher during that visit
• The voucher is valid for dine-in only and must be presented and scanned prior to being seated
• The voucher can be redeemed in full only one time, it cannot be used partially
• The voucher is non-refundable, cannot be exchanged for cash (in full or in part), may not be redeemed for other gift cards and/or special offers and any unused credit will be forfeited
• All purchases are final and changes to an alternative voucher or a refund will not be accommodated 
• The Hospitality Management Asia and its establishments are not responsible for any lost, stolen, damaged, or destroyed vouchers and no replacements will be made in these circumstances
• Multiple HMA 8.8 Flash Sale Vouchers may be used for each visit but can not be used with any other promotions, discounts, offers, and/or vouchers that are not the HMA 8.8 Flash Sale Vouchers
• HMA Privilege members will be credited points for any amount spent that exceeds the voucher value. For example, if the bill total comes to 2500 THB, and the voucher value is 1000 THB, the member will be credited 1500 points
• Hospitality Management Asia and its establishments reserve the right to amend the terms and conditions as necessary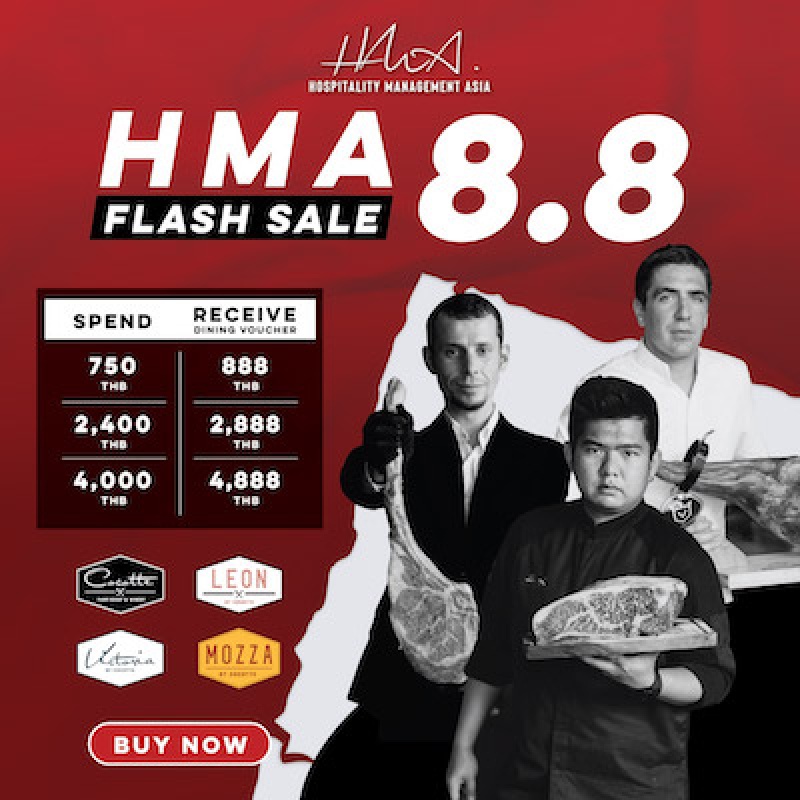 Venue Details
ALL VENUES (Hospitality Management Asia)
695 Sukhumvit Rd Khlong Tan Nuea Watthana
Bangkok, Bangkok, 10110