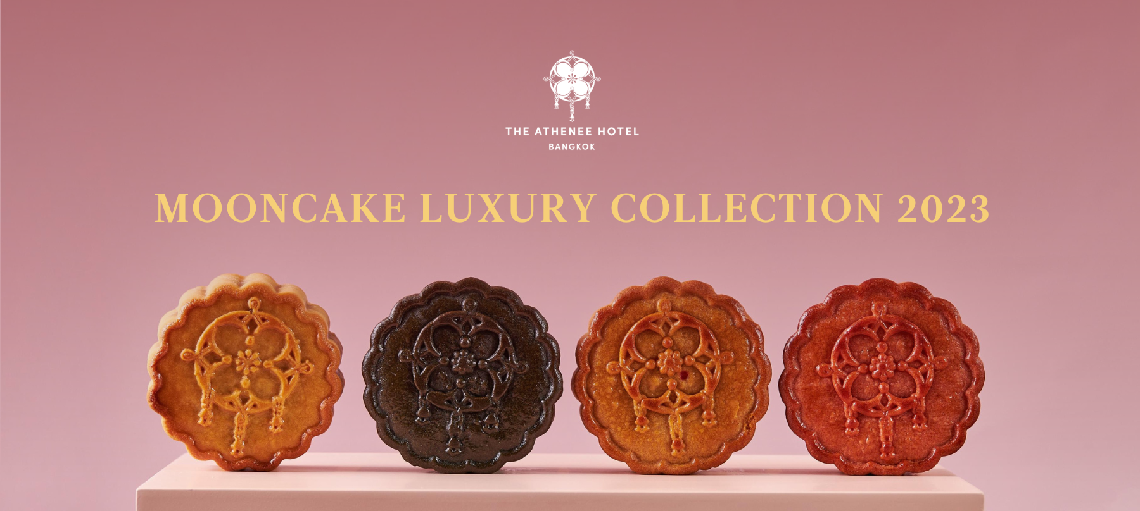 Mooncake Luxury Collection 2023 at The Athenee Hotel
This event has already taken place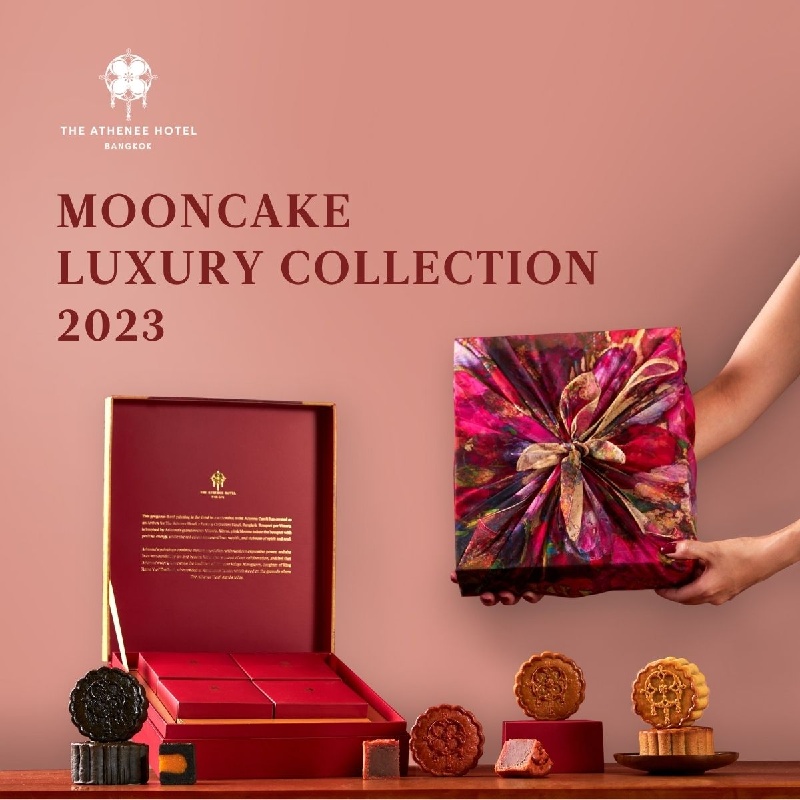 Venue Details
The Athenee Hotel, a Luxury Collection Hotel, Bangkok
The Athenee Hotel, a Luxury Collection Hotel, Bangkok
Pathum Wan District, Bangkok, 10330
Mooncake Luxury Collection 2023 at The Athenee Hotel
MOONCAKE LUXURY COLLECTION 2023
The Athenee Hotel's mooncake is an ideal and luxurious appreciation gift with beautiful and meaningful designs. Thoughtfully crafted recipes for the mooncake flavors for this special occasion
 
** Mooncake can be picked up from August 15th 2023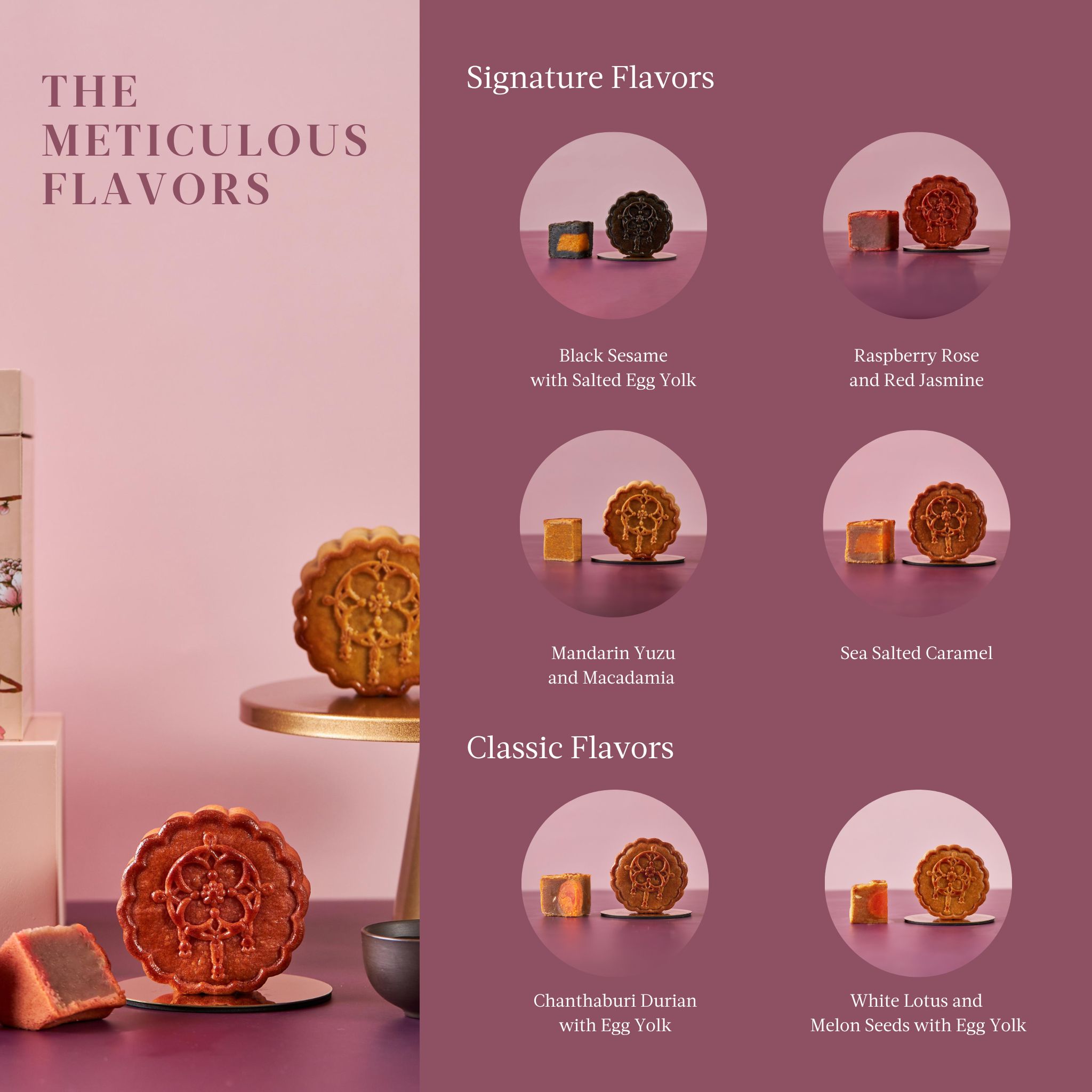 🥮 Signature Flavors 🥮
Black sesame with salted egg yolk
Raspberry rose and red jasmine
Mandarin yuzu with macadamia
Sea salted caramel

Classic Flavors
Chanthaburi Durian with egg yolk
White lotus and melon seeds with egg yolk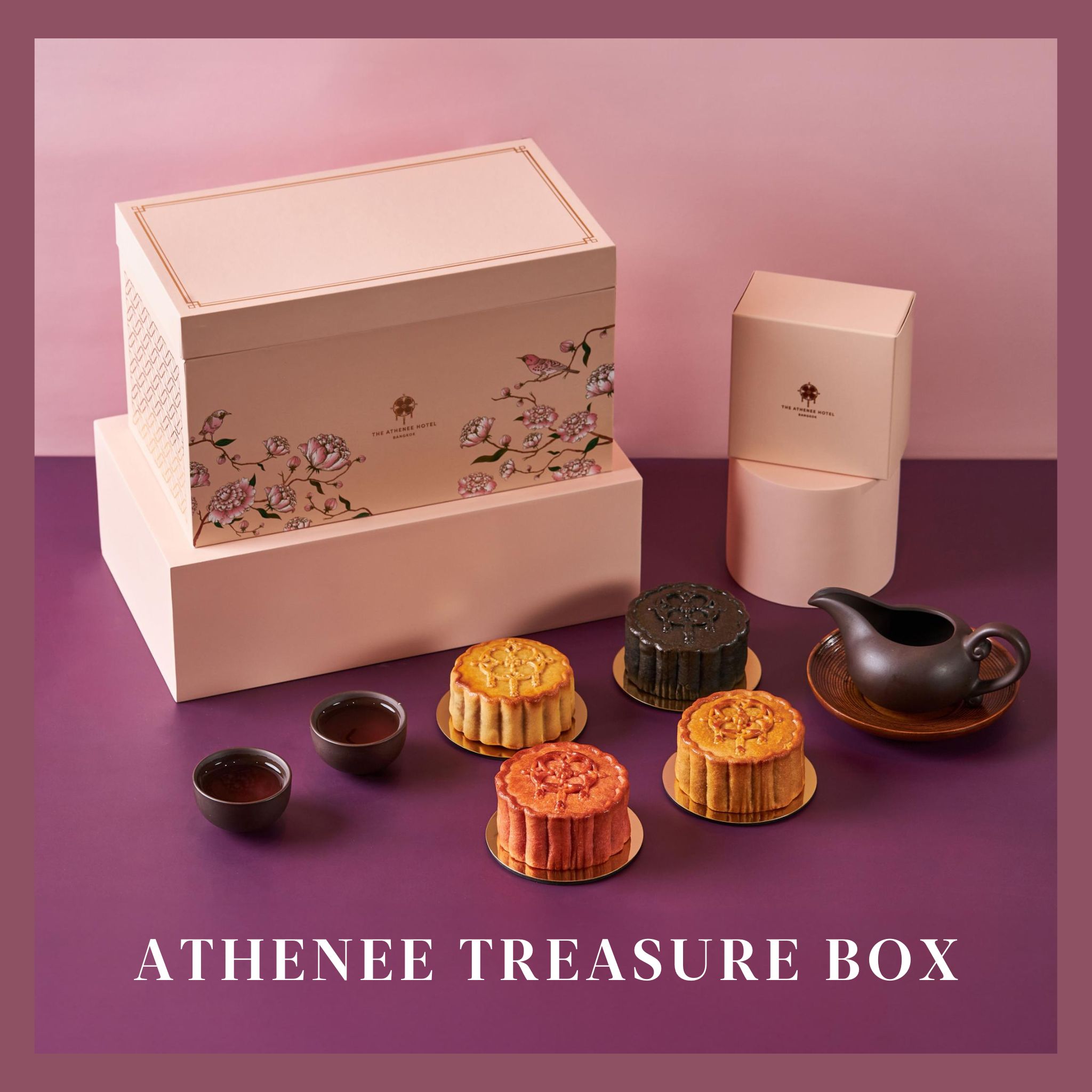 "Athenee Treasure Box"
An auspicious gift to celebrate Mid-Autumn Festival. Its pink hues and painted peony flowers symbolize beauty, wealth and prosperity. Share this exquisite token to your loved one to evoke joy and good fortune on this special occasion.
*Customize your logo on the top of the treasure box, please contact us for more information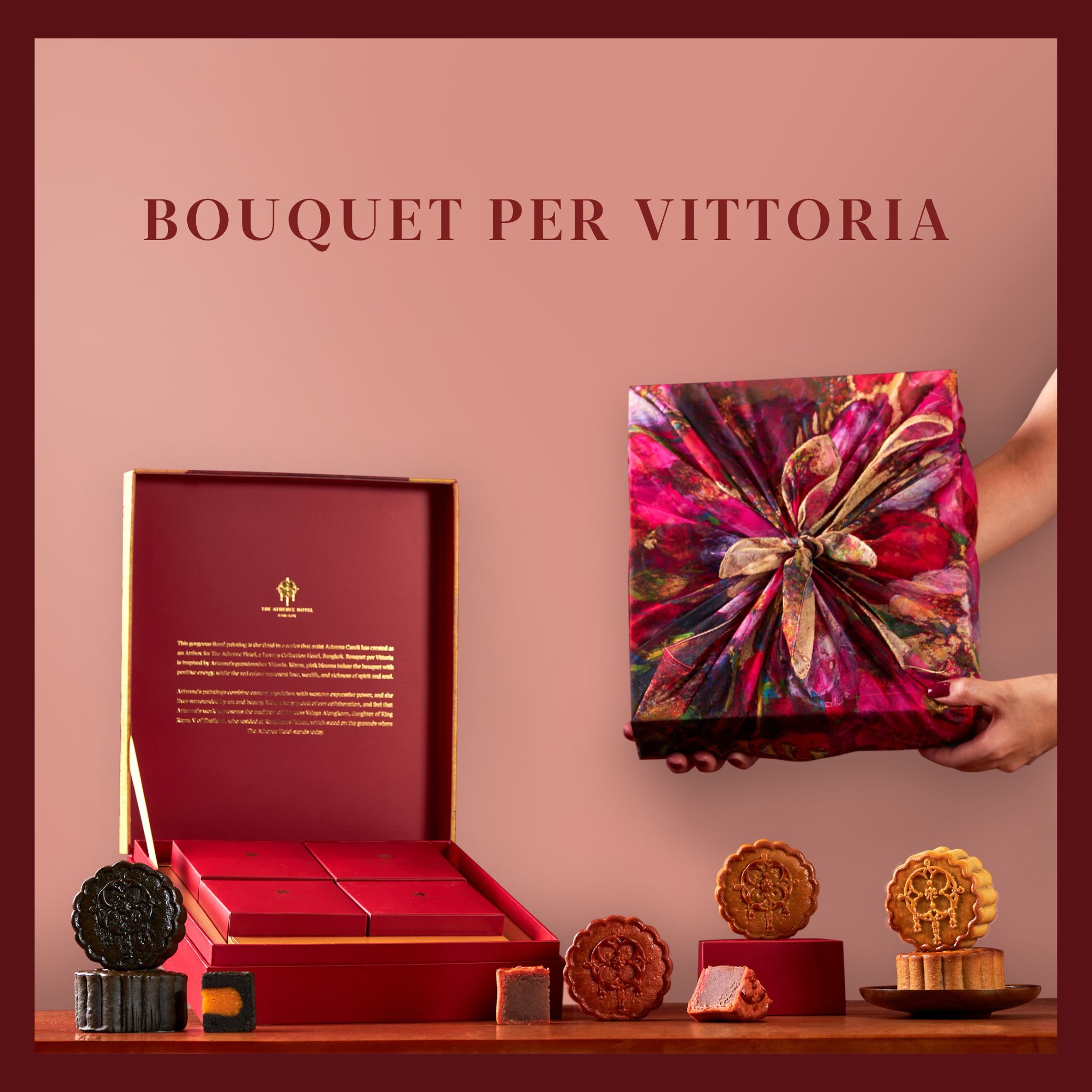 "Bouquet per Vittoria"
This gorgeous floral painting is the third in a series that artist Arianna Caroli has created as an Artbox for The Athenee Hotel, a Luxury Collection Hotel, Bangkok. Bouquet per Vittoria is inspired by Arianna's grandmother Vittoria. Warm, pink blooms infuse the bouquet with positive energy, while the red colors represent love, wealth, and richness of spirit and soul. Arianna's paintings combine eastern mysticism with western expressive power, and she lives surrounded by art and beauty. We are very proud of our collaboration, and feel that Arianna's work represents the tradition of Princess Valaya Alongkorn, daughter of King Rama V of Thailand, who resided at Kandhavas Palace, which stood on the grounds where The Athenee Hotel stands today.
For more information please contact 02 650 8800 or email [email protected]

Terms and conditions
1 package box contains 4 mixed mooncake flavors (After completed purchasing. The hotel will contact to confirm the flavors)

Advance order of 3 days is required 

To be picked up and delivered start from 15 August 2023

Delivery charge based upon the distance (charge)

Self-collection is available from The Bakery at The Athenee Hotel, a Luxury Collection Hotel, Bangkok

For self-collection please inform date and time for pick up

The purchase is non-refundable
ข้อกำหนดและเงื่อนไข
กล่องแบบแพ็กเกจบรรจุขนมไหว้พระจันทร์ได้

4

ชิ้น (หากเลือกซื้อแบบกล่อง

 

ทางโรงแรมจะติดต่อกลับเพื่อสอบถามรสชาติขนมไหว้พระจันทร์ที่จะบรรจุในกล่อง)

กรุณาสั่งซื้อล่วงหน้าอย่างน้อย

3 

วัน

สินค้าสามารถเริ่มรับด้วยตนเองหรือบริการส่งตั้งแต่วันที่ 15 สิงหาคม 2566 เป็นต้นไป

ค่าบริการจัดส่งขึ้นอยู่กับระยะทาง

รับด้วยตนเองได้ที่ร้านเดอะ เบเกอรี่ โรงแรม ดิ แอทธินี โฮเทล แบงค็อก

,

อะ ลักซ์ชูรี คอลเล็คชั่น โฮเทล

กรุณาแจ้งวันที่และเวลาในการเข้ารับสินค้า

การสั่งซื้อนี้ไม่สามารถคืนเงินได้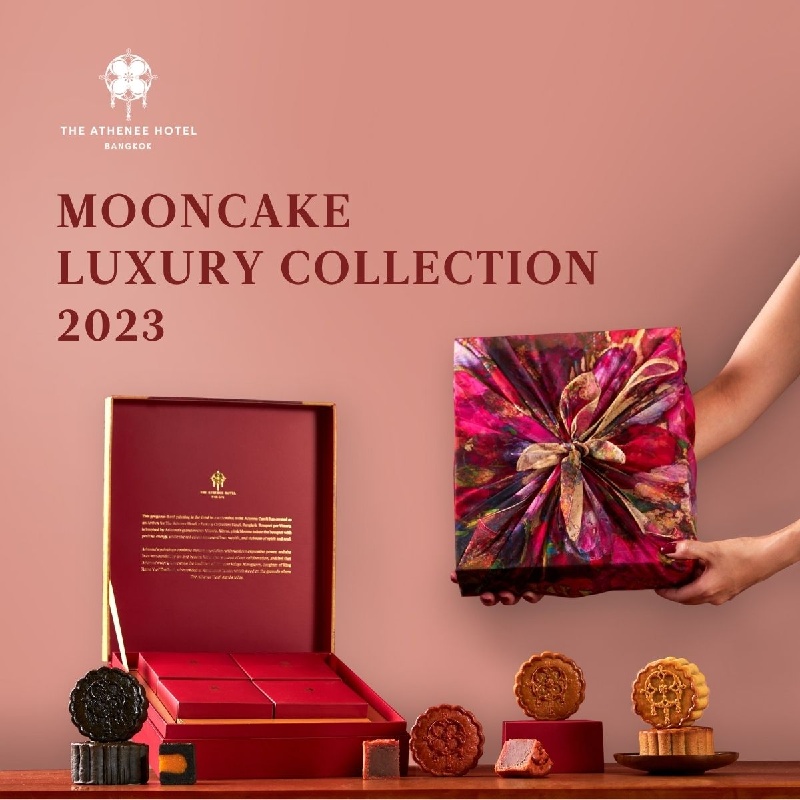 Venue Details
The Athenee Hotel, a Luxury Collection Hotel, Bangkok
The Athenee Hotel, a Luxury Collection Hotel, Bangkok
Pathum Wan District, Bangkok, 10330