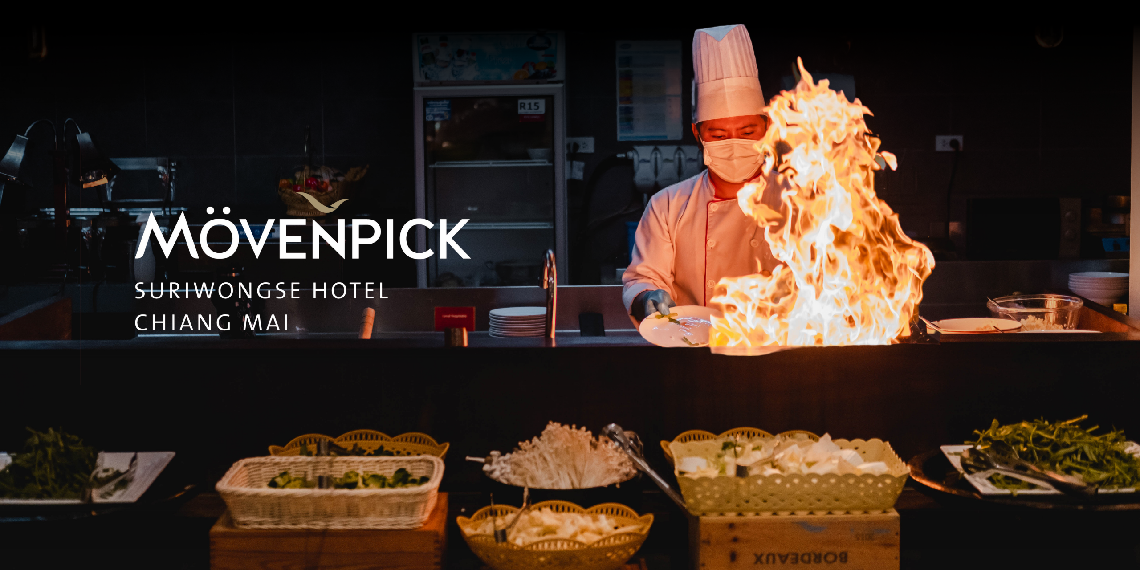 Mövenpick Thai Buffet (Khaotom)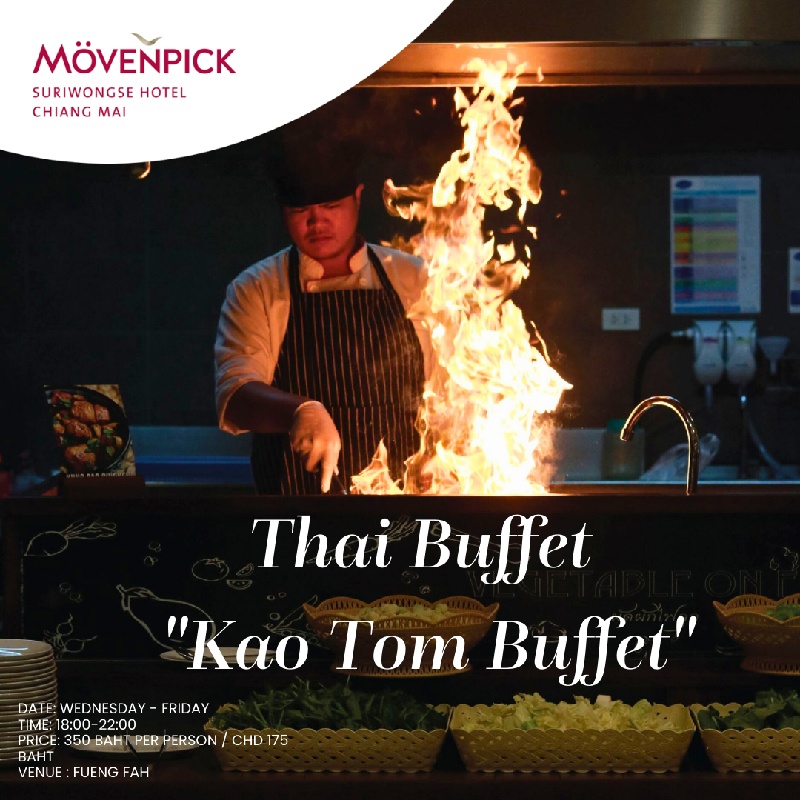 Venue Details
Mövenpick Suriwongse Chiang Mai
110
changklan Rd, Chiang Mai, Thailand, Chiang Mai, 50100
Mövenpick Thai Buffet (Khaotom)
Thai Buffet "Kao Tom Buffet"
Tonight, in the heart of Night Bazaar, you can discover the legend of "Kao Tom Buffet" at the Celestial Restaurant in the Movenpick Surawongse, Chiang Mai.
Originally opened for dining pleasure every Wednesday to Friday night, this buffet offers a variety of more than 30 dishes for only 350 baht per person.
Some highlights included Jab Chai (Mixed Vegetable Stew), Boiled pork knuckle roasted peanuts, Pork Shank with Steamed Chinese Buns, and Crispy pork served unlimitedly. Additionally, there is a live station where you can customize your stir-fried vegetables with a selection of different types of greens.
There is also a selection of various types of salads made from fresh garden vegetables, as well as seasonal fruits and desserts.
This price includes drinks, including water and hot tea. There will also be melodious live music performances.
Date : Wednesday - Friday
Time : 18:00-22:00
Price : 350 Baht person / CHD 175 Baht
Venue : Fueng Fah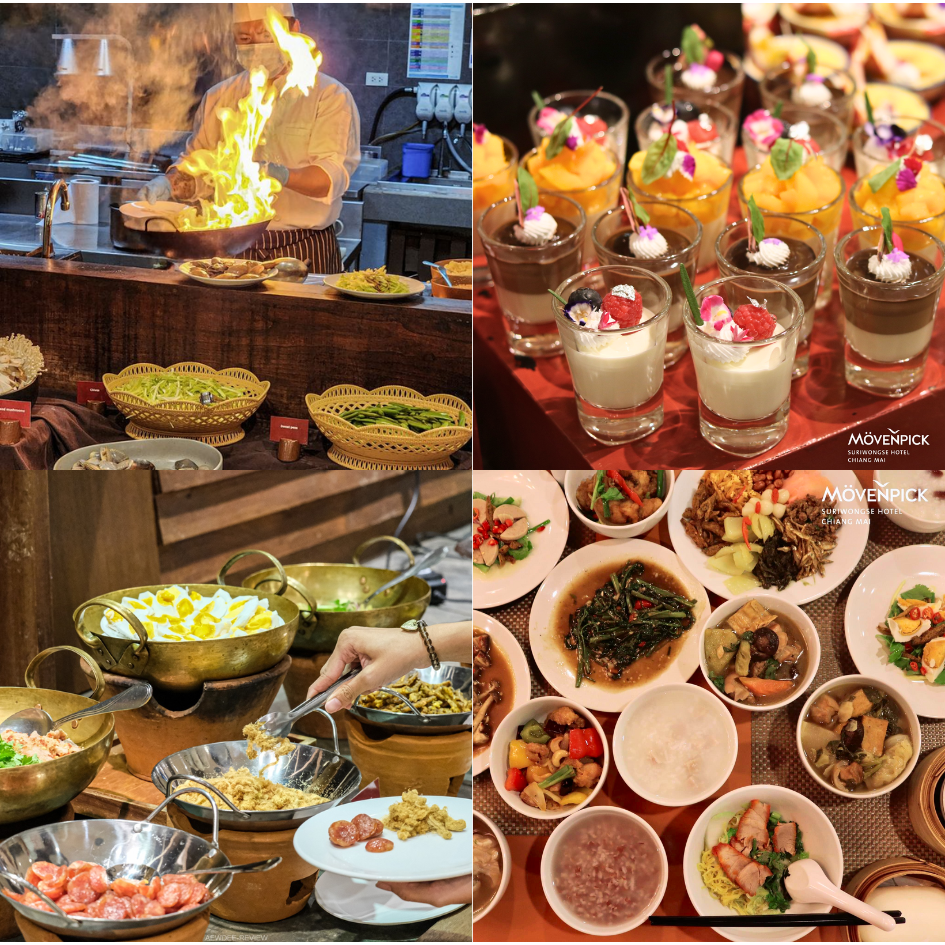 Terms and conditions:
All vouchers are valid for one-time use only.
All vouchers have no cash value.
All vouchers cannot be used with other discounts or third-party promotions.
For voucher use during public holidays and hotel happenings, blackout dates may apply. Advance reservations are required.
All vouchers cannot be copied or altered. 
Validity for each voucher is as per mentioned in event description. Validity cannot be changed or extended in any case. All fixed date ticket types are valid on the selected date only. Open date vouchers must be used within 3 months after purchase.
All vouchers are non refundable and cannot be exchanged to other services.
Advance booking is highly recommended.
Hotel reserves the right to change operating hours without prior notice.
Number of each ticket type is limited.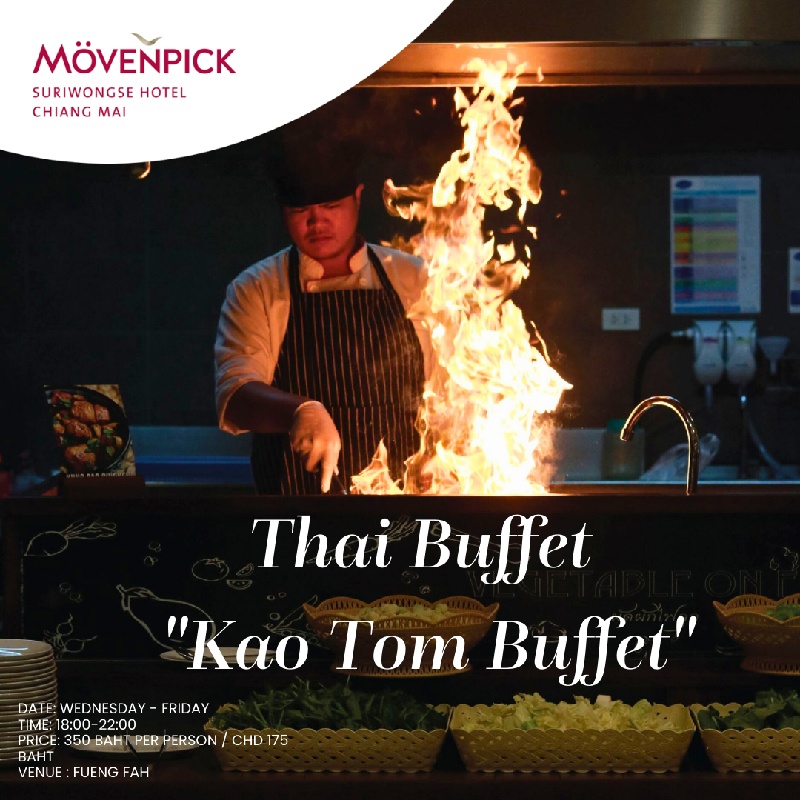 Venue Details
Mövenpick Suriwongse Chiang Mai
110
changklan Rd, Chiang Mai, Thailand, Chiang Mai, 50100