Bar Crawl at The Standard, Bangkok Mahanakhon
20+
Venue Details
The Standard, Bangkok Mahanakhon
The Standard, Bangkok Mahanakhon 114 Narathiwas Road
Silom, Bangrak, 10500
Bar Crawl at The Standard, Bangkok Mahanakhon
20+
Choose your own adventure at our Everyday Bar Crawl. Start at the top, bottom or anywhere in between. Pour it up, sip it down and get your very own drink passport stamped as you go. Did we mention there's a free gift for the first 100 guests? That, too.
Date: Everyday
Time: 5.30pm onwards
Place: Pick up your passport at The Parlor (4th floor), and make your way through Mott 32, The Parlor, Double Standard, and Ojo Terrace.
Price: THB 2331 net which includes 4 drinks (1 drink and snack per restaurant/bar) and two extra complimentary drinks for you at any outlet mentioned above.
To take full advantage of the Bar Crawl, please arrive before 10pm.
Let's start hopping shall we?
A signature drink and snack at Mott 32 Bar & Terrace.
Our Pick: Mott 32's signature Hong Kong Iced Tea with tequila, Cassis and jasmine.
An otherworldly cocktail and canape at The Parlor.
Our Pick: The sweet and sour Rhythm cocktail with gin, yuzu and tropical fruits.
Hey! Mahanakhon pilsner or boozy cocktail and a bar bite at Double Standard.
Choose any beer or cocktail and an American snack like our signature sticky wings.
A classic cocktail and a tapa at Ojo Bar & Terrace.
Our Pick: The Posca Allende with mezcal, Lillet Blanc and guava.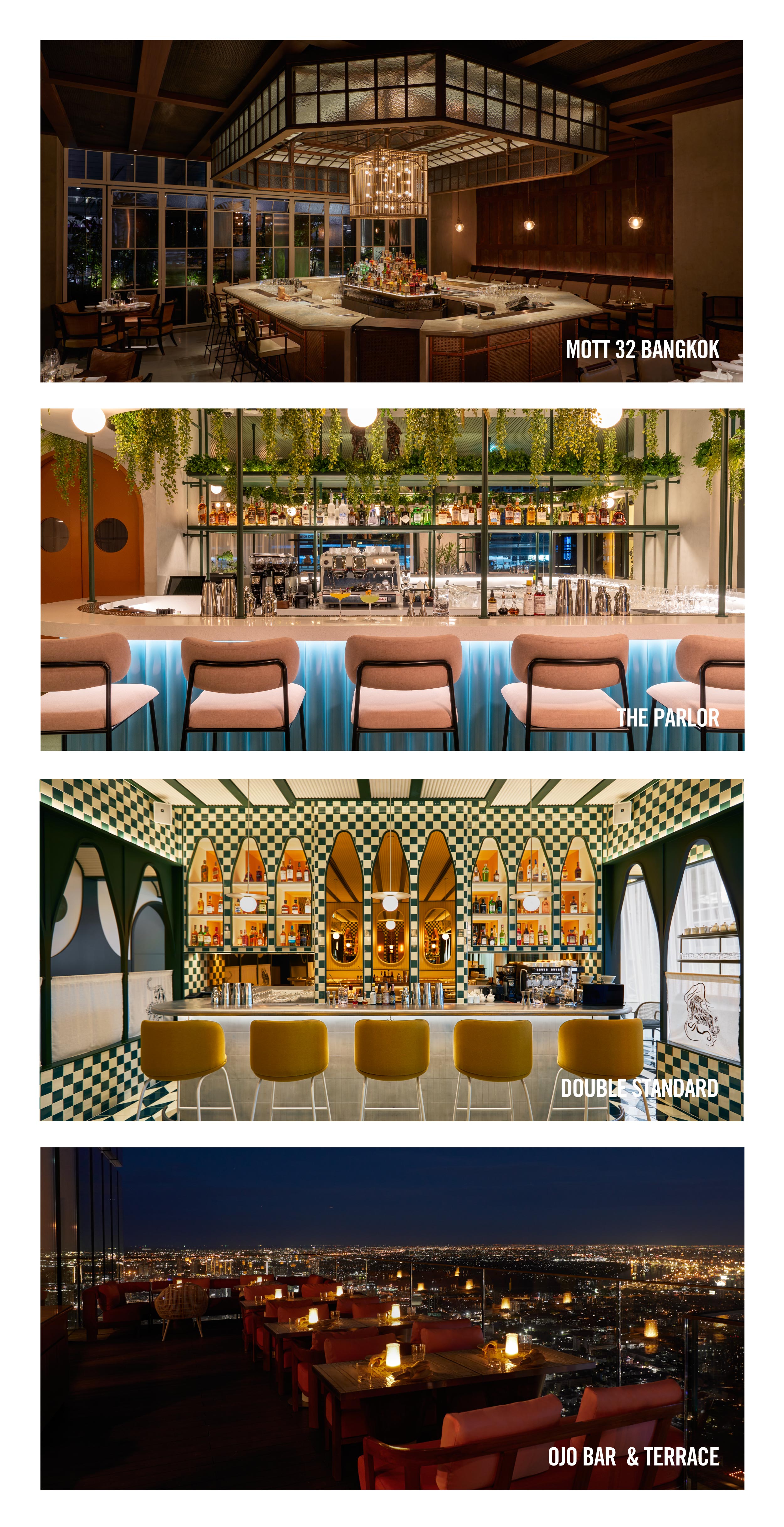 - Tickets are non-refundable and non-exchangeable.
- Tickets will be redeemed at The Parlor (located on the 4th floor) for a passport in order to start the bar crawl. 
- Passports must be carried with you during the whole duration of the event. 
- There will be no refund on any unused portion of tickets, or if you decide not to attend any part of the event.
- The event is strictly for those 20 years old and above.
- In case of a private event, an alternative outlet will be offered where beverages can be consumed. 
- Guests must agree to a security screening for any prohibited items when visiting Ojo. 
- Outside food and beverages, large bags and flowers are not permitted upon visiting Ojo. 
- The Hotel reserves the right to refuse access to those intoxicated.
Venue Details
The Standard, Bangkok Mahanakhon
The Standard, Bangkok Mahanakhon 114 Narathiwas Road
Silom, Bangrak, 10500