MEGATIX SUPER SPA SALE | KIMPTON MAA-LAI BANGKOK
This event has already taken place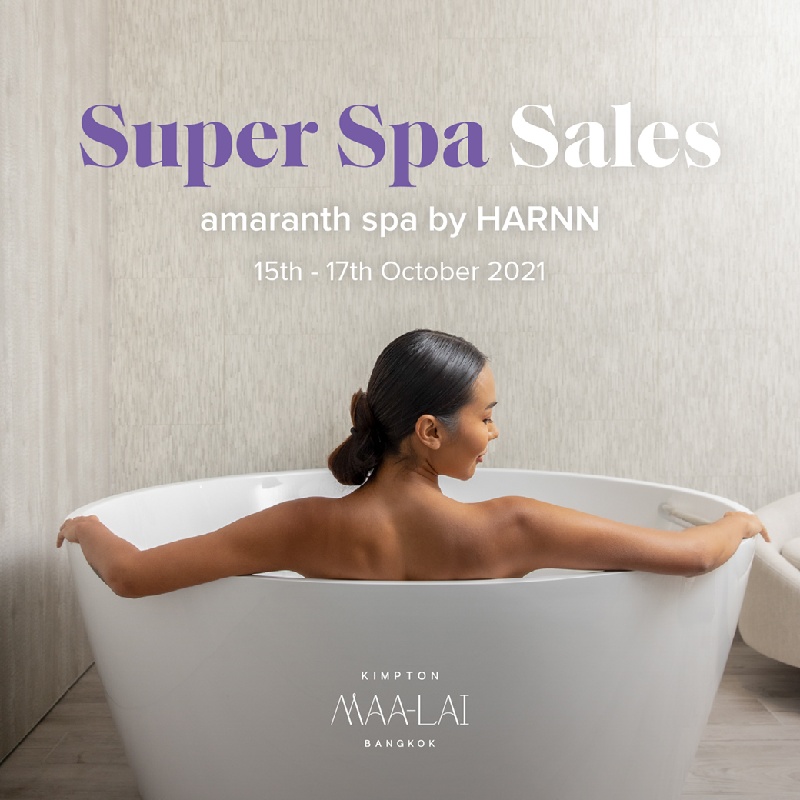 Venue Details
KIMPTON MAA-LAI BANGKOK
78 SOI TONSON
PATHUMWAN, BANGKOK, 10330
MEGATIX SUPER SPA SALE | KIMPTON MAA-LAI BANGKOK
amaranth spa by HARNN

SPA DAYS ARE BACK

ซื้อ 1 แถม 1 สปาทรีทเม้นท์ Siam Heritage Body Massage 60 นาที 
ราคา 2,499 บาทสุทธิ (จากราคาเต็ม 6,591.20 บาทสุทธิ)

ตั้งแต่วันที่ 18 ตุลาคม - 17 ธันวาคม 2564 เท่านั้น

- - - -

Buy 1 Get 1 Free for 60-min Siam Heritage Body Massage at THB 2,499
(From original price of THB 6,591.20 net)

Valid from 18 October - 17 December 2021

 

JOIN US - BECOME A MEMBER
ส่วนลดพิเศษ แพ็คเกจสมาชิก Off-Peak 4 เดือน amaranth spa by HARNN
เพียง 15,000 บาทสุทธิ (จาก 40,000 บาทสุทธิ)
รวมสิทธิประโยชน์มากมาย อาทิ
• สมาชิก amaranth spa by HARNN สำหรับ 1 ท่าน 4 เดือน
• ใช้ได้ตั้งแต่วันจันทร์ - วันศุกร์ ระหว่าง 10.00 - 17.00 น. เท่านั้น
• เครดิต 10 ชั่วโมง สำหรับใช้บริการ HARNN ทรีทเม้นท์ 60 นาที ที่ amaranth spa by HARNN
• ส่วนลด 10% สำหรับผลิตภัณฑ์ HARNN
• ส่วนลด 15% สำหรับทรีทเม้นท์ Biologique Recherche
• ส่วนลด 15% สำหรับห้องอาหารของโรงแรมฯ ไม่รวมเครื่องดื่มแอลกอฮอลล์ (สูงสุด 2 ท่าน)
• บริการที่จอดรถฟรี 4 ช.ม. ต่อวัน
สมาชิกมีอายุตั้งแต่วันที่ 18 ตุลาคม 2564 - 17 กุมภาพันธ์ 2565
- - - -
Off-Peak 4-month Spa Membership Offer
only at THB 15,000 net per person (From THB 40,000 net)
inclusive of
• Individual 4-month membership validity at amaranth spa by HARNN
• Available to use Monday-Friday from 10:00AM - 5:00PM
• 10-hour spa credit of 60-minute HARNN treatment at amaranth spa by HARNN
• 10% OFF for HARNN retail products
• 15% OFF for Biologique Recherche treatment
• 15% OFF for food and non-alcoholic beverages at hotel restaurants & bars. (Maximum 2 persons)
• Complimentary parking at the Hotel up to 4 hours
Valid from 18 October 2021 - 17 February 2022

GET IN SHAPE

ซื้อ 1 แถม 1 คลาส Personal Trainer เพียง 2,200 บาท
เลือกได้ทั้งคลาสโยคะ มวยไทย และ Weight Training (จากราคาเต็ม 4,400 บาทสุทธิ)

ตั้งแต่วันที่ 18 ตุลาคม - 17 ธันวาคม 2564 เท่านั้น

- - - -

Buy 1 Get 1 Free for Personal Trainer session at THB 2,200 net (from THB 4,400)
A choice of Yoga, Thai Boxing, or Weight Training

Valid from 18 October - 17 December 2021

 

GET FIT MEMBERSHIP
GYM Membership 3 เดือน
เพียง 17,000 บาทสุทธิ ต่อท่าน (จากราคาเต็ม 22,000 บาท)
รวมสิทธิประโยชน์มากมาย อาทิ
• สมาชิก GYM สำหรับ 1 ท่าน 3 เดือน
• สามารถเข้าร่วมคลาสเรียนของทาง GYM ได้
• สามารถใช้บริการสระว่ายน้ำ ห้องซาวน่า และ ห้องสตรีม
• บริการน้ำดื่ม น้ำผลไม้ ผลไม้ตามฤดูกาล และ ผ้าขนหนู
• บริการที่จอดรถฟรี 4 ช.ม. ต่อวัน
• ส่วนลด 15% สำหรับห้องอาหารของโรงแรมฯ ไม่รวมเครื่องดื่มแอลกอฮอลล์ (สูงสุด 2 ท่าน)
• สำหรับใช้บริการทุกวันจันทร์ - วันศุกร์ ตั้งแต่เวลา 6:00 - 21:00 น. เท่านั้น
สมาชิกมีอายุตั้งแต่วันที่ 18 ตุลาคม 2564 - 17 มกราคม 2565
- - - -
3-Month GYM Membership Offer
at THB 17,000 net per person (from original THB 22,000 net)
inclusive of
• Individual GYM membership for 3-month validity
• Complimentary participation to any group class as per schedule.
• Complimentary access to swimming pool, sauna and steam room.
• Complimentary drinking water, fruit juices, seasonal fruits and towels.
• Complimentary parking at the Hotel up to 4 hours
• 15% OFF for food and non-alcoholic beverages at hotel restaurants & bars. (Maximum 2 persons)
• Available to use from Monday - Friday, from 6:00 a.m. - 9:00 p.m.
Valid from 18 October 2021 - 17 January 2022
See our other offers at megatix.in.th/kimptonmaalaibangkok
Call: +66 2 056 9999 | Email: kimptonmaalaibangkok@ihg.com
www.kimptonmaalaibangkok.com
Terms & Conditions
- Advance reservation required. Please book directly at 02 056 9999 or email at kimptonmaalaibangkok@ihg.com. 
- Following the latest Government announcement, guests must be fully vaccinated or have tested negative for COVID-19 via by ATK (Antigen Test Kit) or RT-PCR Test method. The result must be shown to our staffs, prior to receive the treatment.
- For heath and safety, our spa do not provide massage during pregnancy.
- This voucher cannot be used in conjunction with any other promotions.
- This voucher is limited to one time redemption per transaction only.
- This voucher is subject to hotel availability and not redeemable during blackout dates and public holidays.
- Not applicable with any other hotel events, discounts, packages and promotions.
- Please present this voucher to entitle the benefits.
- An expired Voucher can not be extended in any case.
- No monetary value, non-refundable, non-transferable and not replaceable if lost or stolen.
- All terms and conditions are subject to change without prior notice.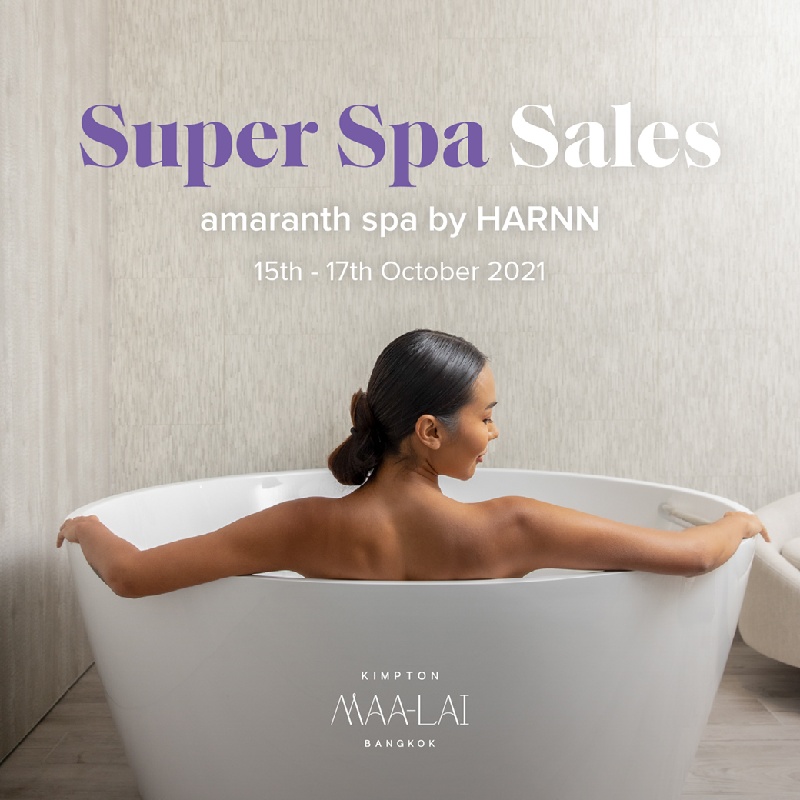 Venue Details
KIMPTON MAA-LAI BANGKOK
78 SOI TONSON
PATHUMWAN, BANGKOK, 10330