11:00am, Sat 26th Nov 2022 - 10:00pm, Sun 27th Nov
This event has already taken place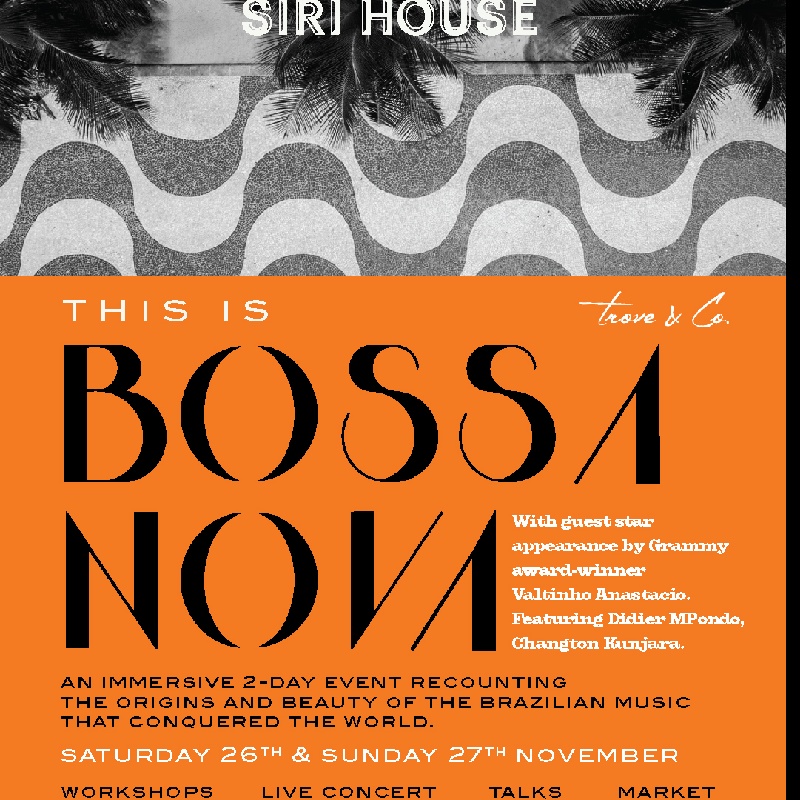 Venue Details
Siri House Bangkok
Siri House Bangkok 14/2 Soi Somkid
Ploenchit, Bangkok, 10330
11:00am, Sat 26th Nov 2022 - 10:00pm, Sun 27th Nov 2022
Rarely in the 20th century, has the world witnessed such success in so little time and created by less than a handful of composers. A global phenomenon matched only by the John Lennon and Paul McCartney duo with the Beatles.
In just a few years, between 1959 and 1962, Bossa Nova, born in the chic neighborhoods of Rio de Janeiro and spearheaded by pianist Antonio Carlos Jobim and poet Vinicius de Moraes, with the voice of guitarist João Gilberto, has conquered the world, amplified by the adoption by Jazz musicians from the US, such as  Charlie Byrd, Stan Getz, and Frank Sinatra, to name a few.
To celebrate this musical phenomenon, Siri House has created an immersive 2-day event with talks portraying the founders of BOSSA NOVA featuring Changton Kunjara, head of musical studies at Rangsit university, live concerts in the garden, percussion workshops for kids and adults alike by TYCOON brand ambassador Didier Mpondo and last but not least, a guest appearance by Grammy award-winner Brazilian percussionist Valtinho Anastacio.  
This Saturday 26th and Sunday 27th, we are thrilled to invite friends and families to attend our mini music festival THIS IS BOSSA NOVA, an immersive 2-day event recounting the origins and the beauty of the Brazilian music that conquered the world.
 Enjoy interactive talks with musicians who will discuss the legacy of Tom Jobim and Joao Gilberto on Brazilian culture and see how American jazz musicians, such as Stan Getz and Frank Sinatra, literally propelled the genre onto the world stage.
 For kids and adults alike, attend a masterclass with TYCOON brand ambassador percussionist Didier Mpondo.
 Listen to live acts with a BOSSA NOVA band featuring master percussionist and Grammy Award-winner Valtinho Anastacio in the garden.
 Watch the Golden Palm winner of the 1959 Cannes' Film Festival, 'BLACK ORPHEUS' that also immortalized Bossa Nova on screen.
 Drink and dance at the closing White Pool Party and churrasco on Sunday late afternoon with a crowd of Brazilian models and artists to mark the end of the festival, featuring DJ Joe Gradante.

🎟️ TICKETS:Tickets are 400 THB for one day or 700THb for both days

Free Entry for under 16yrs
With the kind support of TYCOON, SIAM MUSIC YAMAHA THAILAND, DEVIALET, and HAVAIANAS.
Programs slightly vary from Saturday to Sunday. From 11 AM until 10 PM.
https://fb.me/e/5bdBdsLyD
LEARN | EAT | DRINK | DANCE | LOVE
_______________________________________________________________
EVENT SCHEDULE: 
SATURDAY 26 NOVEMBER
12PM - 1PM      LIVE MUSIC       
Brazilian guitarist Fabao Funk
1PM-2PM       BOSSA NOVA TALK
Khun Changton Kunjara, Head of Jazz Studies at Rangsit University
3PM - 4PM       PERCUSSION WORKSHOP
By grammy award winning musician Valtinho Anastácio
4PM - 5PM       CAPOEIRA
Brazilian martial art and dance
5PM - 7PM       LIVE BAND
Valtinho Anastácio & Friends featuring Oong Natasha and Teerapoj Plitakul Quartet
7PM - 8:30PM        FILM : Black Orpheus
Academy Award and the Cannes Film Festival's Palme d'Or by Marcel Camus
8:00PM - 12AM
DJ Amin
__________________________________________
SUNDAY 27 NOVEMBER
12PM - 1PM       BOSSA NOVA TALK
Khun Changton Kunjara, Head of Jazz Studies at Rangsit University
1PM - 2PM       LIVE MUSIC
By solo guitarist Gustavo
1PM - 2PM       PERCUSSIONS WORKSHOP
With Didier, brand ambassador for Tycoon Percussions
2PM - 4PM       LIVE BAND
Valtinho Anastácio & Friends featuring Prince Von Hudson and Teerapoj Plitakul Quartet
4PM - 10PM       POOL PARTY
With Brazilian BBQ, DJ Mikey Mike, and DJ Juany
**Times and schedule may vary on the day**
Terms and conditions:
- Tickets are valid for one-time use only.
- E-ticket must be present upon arrival.
- Tickets are no cash value, non refundable and cannot be exchanged to other services or cash.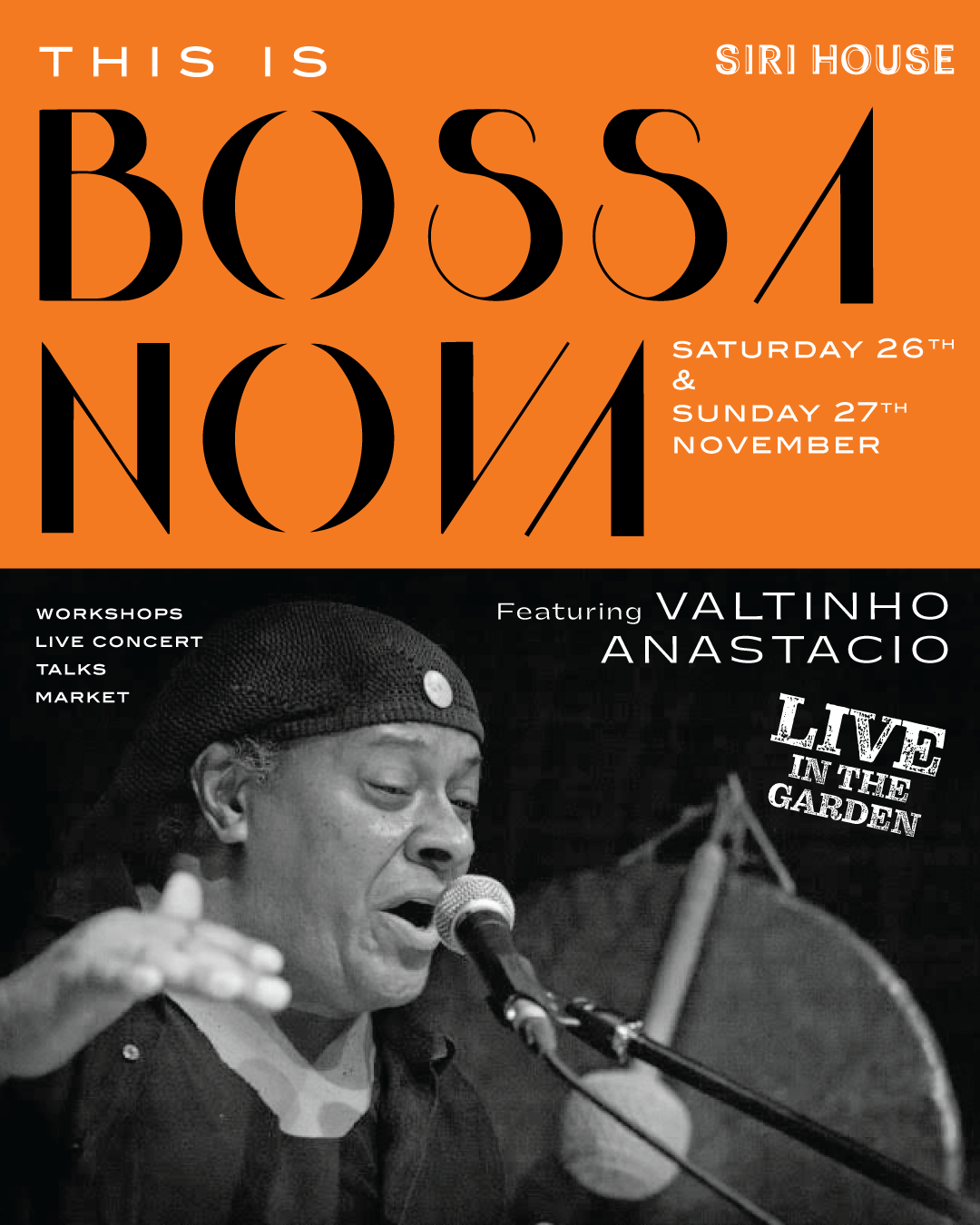 Valtinho Anastácio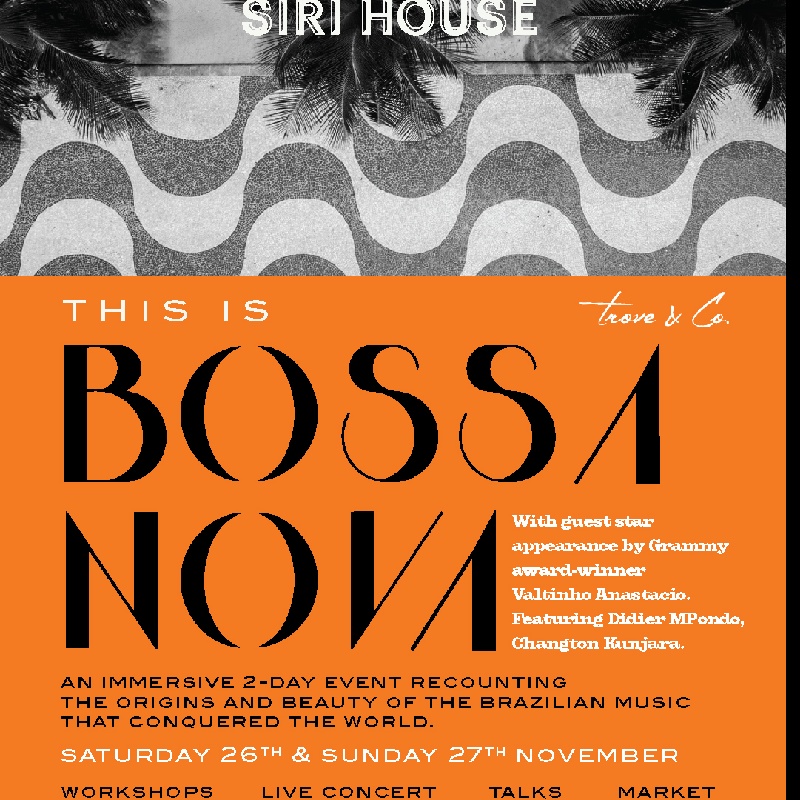 Venue Details
Siri House Bangkok
Siri House Bangkok 14/2 Soi Somkid
Ploenchit, Bangkok, 10330