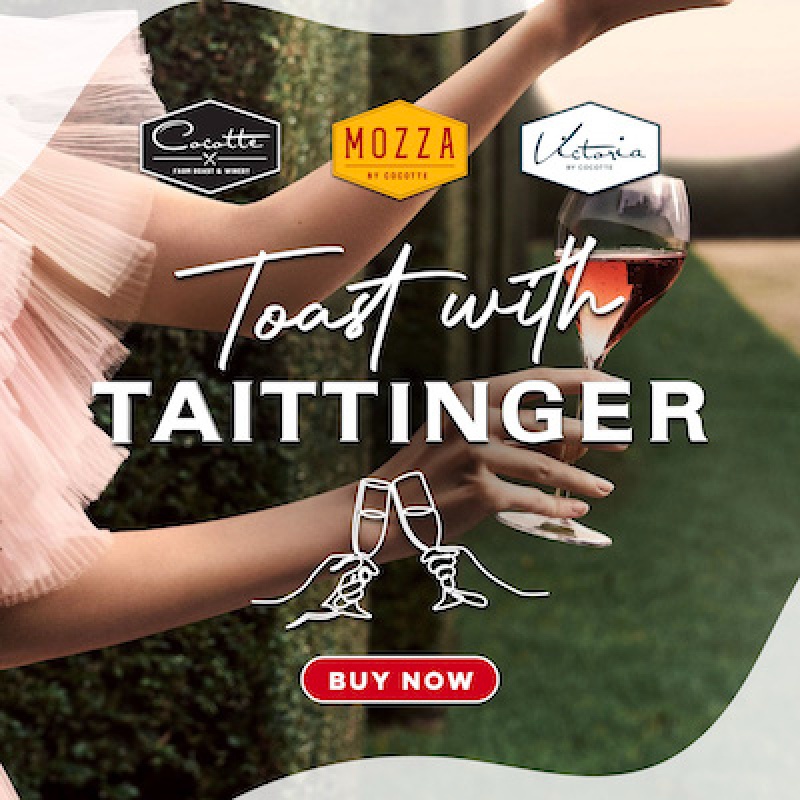 Venue Details
ALL VENUES (Hospitality Management Asia)
695 Sukhumvit Rd Khlong Tan Nuea Watthana
Bangkok, Bangkok, 10110
🍾 Indulge in the Timeless Elegance of Taittinger Prestige Rosé Champagne! 🌹
🎉 LIMITED-TIME OFFER: SAVE BIG ON BOTTLES OF BLISS! 🎉
LIMITED OFFER - 1 Bottle of Taittinger Prestige Rosé (750 ML) for THB 4,500 3,990.- 
🥂 Raise your glasses to a sparkling sensation that transcends time and embodies true luxury. Unleash your taste buds with Taittinger Prestige Rosé Champagne, a graceful symphony of delicate bubbles and luscious fruit notes.
🌺 Discover a delightful blend of Chardonnay, Pinot Noir, and Pinot Meunier grapes, meticulously crafted to achieve a perfect balance of finesse and vivacity. The distinctive pink hue adds a touch of romance to any occasion, making it the ideal companion for celebrations and cherished moments.
✨ The intense and brilliant body is bright pink in colour. The bubbles are fine, and the mousse persistent. The full nose, wonderfully expressive, is both fresh and young. It gives off aromas of red fruits (freshly crushed wild raspberry, cherry, blackcurrant). On the palate, this wine strikes a fine balance of a velvet texture and full body taste. The flavours are reminiscent of fresh, crisp red fruits. The palate can be summed up in four words: lively, fruity, fresh and elegant, as only a rosé blend can be.
💝 Now is your chance to savor this exquisite experience at an exclusive discounted price! Our voucher sale offers you the opportunity to revel in the allure of Taittinger Prestige Rosé Champagne, gifting you and your loved ones with an unforgettable taste of luxury. Elevate your celebrations, and let the radiance of Taittinger Prestige Rosé Champagne illuminate your life. Cheers to moments that sparkle and memories that endure! 🥂✨
📍 This offer is valid at:
- Cocotte Farm Roast & Winery (Sukhumvit 39) | T: 092 664 6777 | https://www.cocotte-bangkok.com/
- Mozza by Cocotte (EmQuartier, ground floor) | T: 097 004 0072 | https://www.mozza-bangkok.com/
- Mozza by Cocotte (Siam Paragon, ground floor) | T: 062 208 8828 | https://www.mozza-bangkok.com/
- Victoria by Cocotte (EmQuartier, ground floor) | T: 092 390 8080 | https://www.victoria-bangkok.com/
- Victoria by Cocotte (CentralWorld, first floor) | T: 065 946 4434 | https://www.victoria-bangkok.com/
- Mozza by Cocotte (Central Chidlom, Second floor) | T: 080 112 6888 | https://www.mozza-bangkok.com/
TERMS AND CONDITIONS
• The HMA Toast with Taittinger Voucher (further referred to as "the voucher") can be enjoyed and be redeemed within 90 days from the date of purchase (the date of purchase is located under the "Order ID"), no extensions will be accommodated
• The vouchers can only be enjoyed and redeemed at these Bangkok Hospitality Management Asia establishments… (1) Cocotte Farm Roast & Winery (Sukhumvit 39), (2) Mozza by Cocotte (EmQuartier), (3) Mozza by Cocotte (Siam Paragon), (4) Victoria by Cocotte (EmQuartier), (5) Victoria by Cocotte (CentralWorld) or (6) Mozza by Cocotte (Central Chidlom).
• The voucher can be enjoyed Monday - Sunday
• The voucher may not be used on on days when the sale of alcohol is prohibited by the government.
• A reservation to your chosen establishment is required and is subject to seating availability and times, please notify the restaurant that you will be redeeming your voucher during that visit
• The voucher is valid for dine-in only and must be presented and scanned prior to being seated
• The voucher can be redeemed in full only one time, it cannot be used partially
• The voucher is non-refundable, cannot be exchanged for cash (in full or in part), may not be redeemed for other gift cards and/or special offers and any unused credit will be forfeited
• All purchases are final and changes to an alternative voucher or a refund will not be accommodated 
• The Hospitality Management Asia and its establishments are not responsible for any lost, stolen, damaged, or destroyed vouchers and no replacements will be made in these circumstances
• Multiple HMA Toast with Taittinger Vouchers may be used for each visit but can not be used with any other promotions, discounts, offers, and/or vouchers that are not the HMA Toast with Taittinger Vouchers
• HMA Privilege members will be credited points for any amount spent that exceeds the voucher value
• Hospitality Management Asia and its establishments reserve the right to amend the terms and conditions as necessary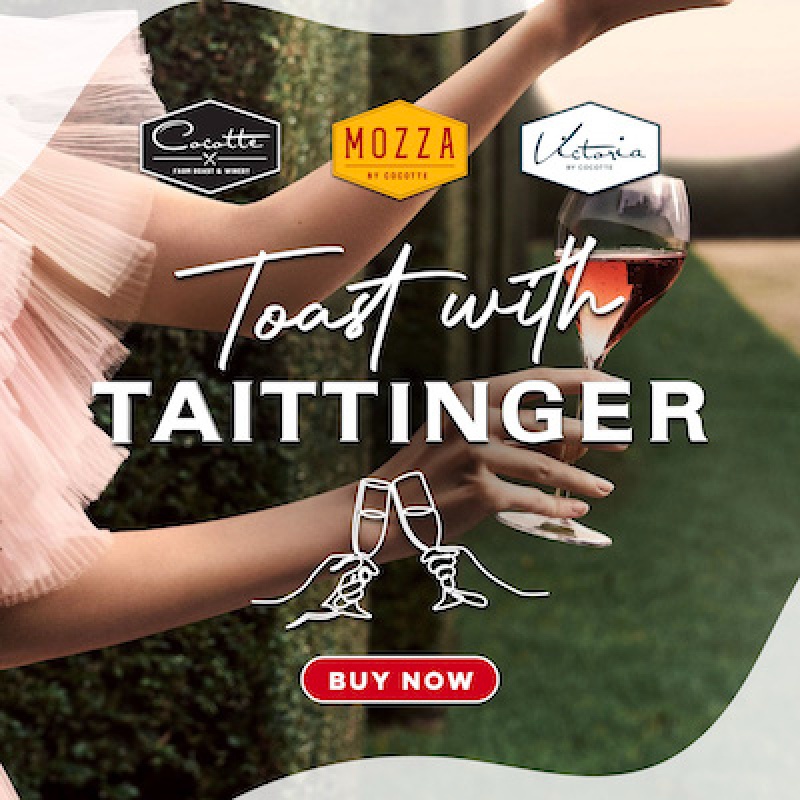 Venue Details
ALL VENUES (Hospitality Management Asia)
695 Sukhumvit Rd Khlong Tan Nuea Watthana
Bangkok, Bangkok, 10110